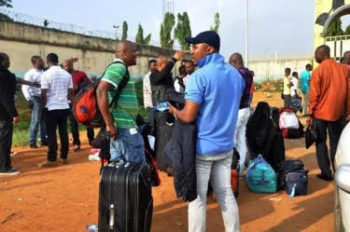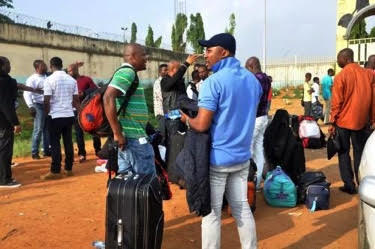 The National Drug Law Enforcement Agency (NDLEA), Murtala Muhammed International Airport (MMIA) Command, Lagos, said 80 Nigerians were deported for drug-related offences in 2018.
According to the NDLEA report, which was made available to SHIPS & PORTS DAILY, 24 were deported from South Africa, 19 from Thailand, 10 from the United States of America and 8 Ethiopia. 5 were also deported from Austria, 3 from Italy and 2 each from France and the United Arab Emirates, while Greece, Canada, Gabon, Indonesia, Iran, Kenya and Sweden deported one person each. 
MMIA NDLEA Commander, Ahmed Garba said no fewer than 93 suspected drug traffickers, comprising 77 males and 16 females, were arrested at the airport between January and December 2018, out of which 25 were convicted.
The report also showed that 5,377.125kg of narcotic drugs were seized in the period under review, which includes cocaine, 24.480kg; methamphetamine, 58.10kg; cannabis, 21.105kg; Tramadol, 5,002.90kg and Ephedrine 196.860kg.  
"It was discovered that most mode by which the illicit drugs were concealed during the period under review were luggage packing followed by cargo packing which accounted for 73.97% and 21.92% respectively," Garba said. 
He said various denominations and sums of money were also recovered from suspects by the agency during the year. 
"The command seized a total of $2,700; €253,760; R2,000 and 8 pieces of postal money order (travellers cheques)," the NDLEA Commander said. 
He said Ethiopian Airlines and South African Airways were the two most frequently used airlines by drug couriers in Nigeria. 
He said 35 arrested suspects were between 30 and 39 years old while 32 were between 40 and 49 years.
"We can do better than we are doing now. We need to have better machines. We also have to evolve. A lot of things have changed. We need to go for the latest scanners. A lot of airports have gone the way of API, which is, Advanced Passengers Information. It will enable us target who we want to target by not subjecting other people to unnecessary search," Garba told SHIPS & PORTS DAILY.