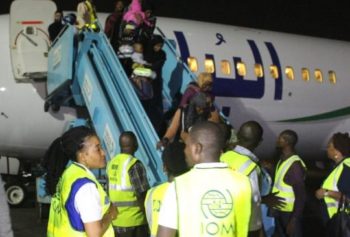 Nigeria's ambassador to Switzerland, Baba Magudu, on Monday called on migrants who have failed in their bids for asylum or are stranded, to embrace the Assisted Voluntary Return and Reintegration Programme of the Swiss government.
Under the programme, illegal migrants are repatriated to their countries voluntarily and supported with SFr.5000 ($5,039) to aid their reintegration process.
Magudu who made the call in the Swiss capital, Bern, noted that the voluntary return was more advantageous than being arrested and jailed, as ex-convicts were not entitled to the scheme.
He said that in the past an impressive number of migrants keyed into the scheme but there had been a decline in recent time following complications arising from identity.
He said, "Recently 40 presumed Nigerians were brought from various prisons, 24 were identified as Nigerians, nine had national identity complications and others failed to show up for the screening.
"These group of people are serving various jail sentences for different crimes and will be repatriated to the country after serving out their time without such the pecks of the scheme."
The envoy listed the crimes to include drugs, prostitution and human trafficking while noting that the once popular advance fee fraud(419) was on the decline with no new recorded cases.
He advised Nigerians against illegal migration and task the diaspora on creating awareness on the dangers and challenges of relocating to Europe without proper documents.