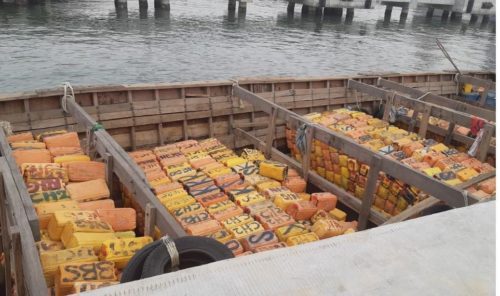 By John Omoaka
The Nigerian Navy Ship (NNS) Beecroft has intercepted a wooden boat popularly called 'Cotonou boat' laden with stolen petrol worth N5.75 million.
The Executive Officer of NNS Beecroft, Captain Paul Dogara, who represented the Commander, Rear Admiral Okon Eyo, while parading persons arrested in connection with the stolen product in Lagos on Wednesday, said "The estimated suspected stolen PMS is 35,000 litres valued at about N5.75million while the Cotonou boat and the outboard engines are valued at about N15million. The total sum of the arrested boat with its contents is N20.75million.
"It is to be noted that the Atlas Cove is central to reception and distribution of refined petroleum products to other NNPC depots at Mosimi, Ore, Ibadan and Sagamu areas. Consequently, the facility has become very attractive to vandals, petroleum thieves and pirates among others.
"The latest arrest by the base represents a major achievement of our constitutional mandate and a setback to the logistics requirements of the criminals."
He said the boat was intercepted at about 1 a.m. on February 8, 2018 at Akaraba Island in Atlas Cove, Apapa, Lagos.
According to him, the boat contained 1,400 25 litres kegs laden with PMS as well as 27 empty drums and a 5×75HP outboard engine with a market value of N20.75 million.