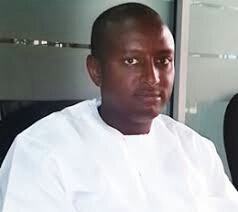 Aminu Umar is the President, Nigerian Ship Owners Association, (NISA). In this interview, he spoke on the need for government to improve port infrastructure to boost maritime trade. He also expressed concern over the perennial traffic gridlock in Apapa and Tin Can Ports access roads which he said had affected ship owners' income among other issues. He spoke with SHIPS &PORTS DAILY Shulammite 'Foyeku and other select journalists.
Excerpts:
As a ship owner, what areas of improvement would you want the government to address in the coming year to enhance your operation?
There is need for improvement in infrastructures. If you look at the premiere port today, it is difficult to move goods and as a result ship owners are suffering a lot of demurrages which we are supposed to earn by discharging and loading another cargo. I cannot give you an estimated figure now but we are losing a lot. We are losing more than 40 percent of the revenue we were making before, in terms of delays and inefficiency because we lack infrastructure. If we had good infrastructure, we would have made more but right now we are losing due to lack of infrastructure and it is huge. The infrastructure issue is not something that is hidden. You see the line-up of trucks, the non-accessibility of trucks that are supposed to pick up cargoes. A normal small car cannot pass, let alone a big truck. So we need to see improvement in that area because we are paying huge taxes to government. Government is generating revenue in the ports and we expect government to invest in that area too. We are really facing a lot of challenges in the industry and we hope to see improvement in infrastructure from the government in the coming year.
Apart from the challenge of infrastructure deficit, would you say you are satisfied with government policies as it concerns indigenous ship owners operation in Nigeria?
For Nigerian ship owners, I cannot say we are 100 percent satisfied. We want to see improvement. We want to see government creating intervention fund which are already provided for by our constitution. It is there in the Act, we are supposed to use it but unfortunately, we are still not getting the intervention fund. We are still discussing and engaging the government to see how they can cushion a lot of issues that we are facing, one of which is finance as intervention fund for ship owners. Up till today, we have not seen improvement in that area. We are still engaging and talking to the regulatory body in charge which is the Nigerian Maritime Administration and Safety Agency (NIMASA). So far, nothing has happened and we hope that may be next year, it will be in the budget. So we want to see improvement in that area too. It is for government to make the disbursement of the fund transparent so that ship owners can have access to these funds. It is meant for the ship owners to have access to the funds but so far, it has not been disbursed to ship owners. We do not know why it has not been disbursed and the government is not telling us why it has not been disbursed. We understand from the regulatory agency which is NIMASA that it will be disbursed this year but unfortunately, the year is almost ending and we are yet to see anything. So we believe it might be for next year and we are hoping that next year, it will be better. We will engage the government and see how we can begin the process of disbursement from the beginning of next year.
A government source recently said that why government has not been able to revive the national carrier and also to disburse the Cabotage Vessel Financing Fund (CVFF) was because we have no real indigenous ship owners in Nigeria but people who do small businesses with NNPC like chartering, chandelling and the rest. What is your take on that?
First what is the definition of a ship owner? It is somebody who owns a ship. So the question is do Nigerians who are citizens of this country have their own ships? The answer is yes. There are Nigerians that own ships. So saying that there are no ship owners in Nigeria is not true. There are ships that are registered, flagged and owned by Nigeria and it is not one, two or even three. There are some that are into brokerage, which is also a legitimate business just like a broker in any other industry. So there are Nigerian ships owners.
In your own estimate, how many active indigenous ship owners do we have?
I cannot give a list now but I believe we have quite a number in the different sectors of the industry. We have to appreciate the fact that there are ship owners that participate in the oil and gas tanker business downstream. There are ship owners who also participate in the upstream oil and gas. In the downstream sector alone, we have nothing less than 20 to 25 active ship owners that are in the tanker business and in the upstream, we have 50 to 100 and they are paying their taxes and employing Nigerians. So I believe they are running legitimate business.
Recently, we had new charges came up in the shipping business such as extra 'war risk' charges as a result of the crisis in the Niger Delta region. However, in recent times, there have been relative peace in the region but these charges are still there. Why is it so?
It is an additional cost for our overhead. There is a charge called extra war risk charge which is put on the insurance of every ship that comes into Nigeria waters. This is charged by the insurance companies that insure our vessels. However, up till today, they have not been able to remove Nigeria coast from this war risk zones because we are being categorized as a war risk zone. In addition to this, we have our government charging us what is called sea protection levy which I understand is for the governmentto put in a fund for the protection of ships that transit or operate within Nigeria waters. These charges are still there in addition to the war risk that we pay to the insurance companies. So far, the combined association of insurance companies have not removed Nigeria from the war zone list but if after certain number of years there is no incident of piracy on our waters, then we might be removed from the war risk zone list. But so far we are still there and we are paying heavily on our insurance. In fact we are paying double of the charges.
How much does an indigenous ship owner pay for sea protection levy on a vessel?
It depends on the size of the vessel. Some vessels pay about N10million per annum. A small vessel might pay about five million naira per annum while a big vessel can pay up to N15million.
Copyright Ships & Ports Ltd. Permission to use quotations from this article is granted subject to appropriate credit given to www.shipsandports.com.ng as the source.