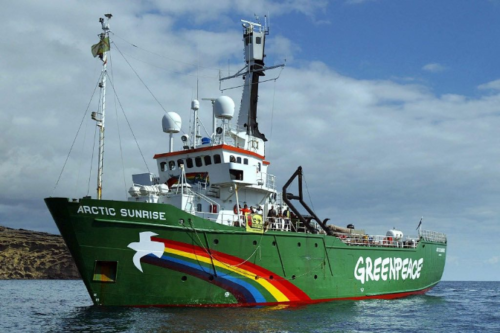 Russia has agreed to pay EUR2.7 million (USD3 million) to Greenpeace in compensation for unlawful detention of its ship Arctic Sunrise and 30 crewmembers in 2013. 
This is a result of an agreement reached between Russia and the Netherlands, the environmental organization said.
The settlement comes after a lengthy legal process dating back to the boarding, seizing and detention of the Dutch-flagged ship in the exclusive economic zone of the Russian Federation.
"We commend the Dutch government for taking a strong stance in favour of freedom of expression and peaceful activism.
"Although Greenpeace International was not a party to this settlement, we are gratified to see the Russian government's agreement with a declaration confirming the substance of the international tribunal's ruling," Senior Legal Counsel of Greenpeace International, Daniel Simons, said. 
In September 2013, Greenpeace took the action to stage a protest at the Gazprom oil platform in the Pechora region. As a result, Russian authorities arrested the ship and the activists in the Barents Sea and brought them to Murmansk.
The crew members and two journalists, known as the Arctic 30, were detained in the country for two months, while the ship was held for eight months.
In July 2017, an international tribunal ordered Russia to pay EUR5.4 million (USD6 million) in damages to the Netherlands in relation to the dispute. However, Russia did not initially recognize the court's decision.
Simons explained that after the Arctic 30 receives the compensation, all the remaining money will go into campaigning against the oil industry.
Copyright Ships & Ports Ltd. Permission to use quotations from this article is granted subject to appropriate credit given to www.shipsandports.com.ng as the source.