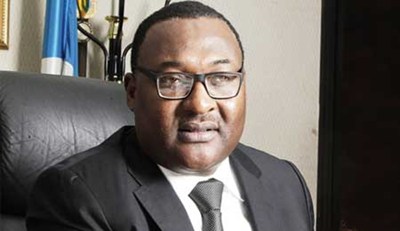 The Nigerian Shippers' Council (NSC) in collaboration with Borderless Alliance has moved to remove all barriers to trade between Nigeria and countries in the Economic Community of West Africa States (ECOWAS) sub region.
Speaking at a one day workshop on the dissemination and launch of the ECOWAS Trade Liberalization Scheme (ETLS) handbook in Lagos on Thursday, Executive Secretary of the Council, Hassan Bello noted thatbarriers to trade increase the cost of trade adding that Africa has the highest cost of transporting goods between origin and destination across all modes of transportation.
Bello who was represented by the Director, Consumers Affair of the Council, Cajetan Agu, said the ETLS handbook which was developed by Borderless Alliance and UKaids contains protocols and procedures needed to transact cross border trade while it also identifies common barriers facing cross border stakeholders for specified products. 
The information he said would help stakeholders comply with approved standards, thus eliminating barriers to trade and paving way for seamless operations at the borders.
"What we are launching today is an ETLS handbook which contains the processes and procedures that regulates the importation and exportation of selected cereals like maize, sorghum cassava and millet. What we are doing is to present it to the general public more especially stakeholders including the importers, exporters.
"We must work assiduously to reduce these unnecessary costs by eliminating all the barriers to trade and make our products more competitive in international market.
"Removing of obstacles to intra regional integration in the ECOWAS sub-region would be particularly beneficial to small scale traders that conduct cross border commerce within the sub-region. The potential benefits include food security, July b creation, poverty reduction, increased tax revenues for authorities and long term development outcomes," he said.
Bello urged importers to be ready to compete favourably stating that contrary to insinuations, the ETLS scheme will not lead to dumping of goods in the country as there are mechanisms put in place to ensure that goods on transit are not dumped in the country. 
"We should try to remove the connotation that when you liberalize trade it will lead to dumping of goods in Nigeria. In the World Trade Organization (WTO) standard, the idea is either you compete to survive or you perish. We are in a globalized world so you need to be ready to compete as a country
"There are some mechanisms put in place to address the issue of dumping of goods in Nigeria. If those mechanisms are put in place those who are involved in dumping of goods will be apprehended and the appropriate penalty melted on them." 
He said the dissemination of the ETLS handbook would also take place in other major cities including Kano and Port Harcourt.
Earlier in his address, Executive Secretary, Borderless Alliance, Justin Bayili said lack of implementation of the ECOWAS protocols by governments in the sub region is one of the challenges militating against facilitation of cross border trade.
According to him, "We have all the protocols and regulations guiding free movement of goods and people in the ECOWAS region but unfortunately, this protocols are not implemented fully either by the government or government agencies.  We need more political will of the governments at the national level for better trade among ourselves." 
Bayili who noted that lack of information of the ECOWAS protocols by shippers also contributed to barriers to cross border trade said with the ETLS handbook, shippers would be better informed on how to enhance cross border trading activities.