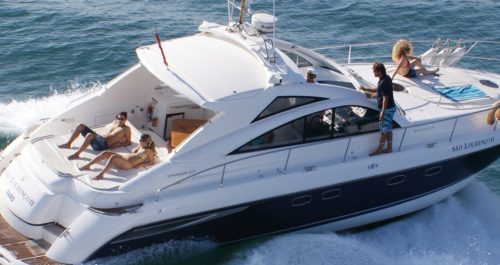 I got invited to go party with my girlfriends fiancee group. Her fiancee is a rich guy and has a luxury boat and everything. I was told we will be having an all out party with many single people. I obviously was excited to be dressed in a bikini with hot single guys out on the lake. I went and bought a sexy bikini, which showed a lot of my flesh and was very racy. I knew I was going to have some fun.
I arrived at the boat and it already had about 14 single guys and 8 girls. Lots of booze and food was loaded. The boat was multiple level with a bedroom and a guest room below deck. The deck was huge and a lot of place to sun bathe. The guys were gorgeous specially Brent and Jeff. Both were my age and had great abs. I quickly got introduced to all and could see guys eyeing me and the other girls on the boat. Besides my gf and her fiancee, there were only 2 other couples. That left 5 girls and 11 guys all unattached and there to have fun. I planted myself on the sun deck, stripped out of my summer dress and lay down to show the guys my sexy body. Behind all the sunshades I knew guys were staring at my bikini that was sexy. I turned over to show how narrow it was on my ass and I knew other girls were jealous as I decided to be risqué.
I chatted around with a few guys but soon had Brent parked next to me. We were flirting and touching each other playfully. Middle of the lake we jumped in to cool off and Brent was playing with me in the water making sure he picked me and touched me and I could feel his hardness. I enjoyed that attention and fooled around too. Every once in a while Jeff would step in to do the same and soon I realized these 2 guys were getting to touch me often. Drinks were pouring and we were having fun. My gf dared me to show my chest and it took no more asking and my top was gone. Other girls joined in the fun. I looked at Jeff and asked him to strip on a dare. He pulled out his trunks though it was tough to see what was under the water. After having some fun, we all pulled our bathing suits back on and went to the boat to eat and drink more.
I made my way down to the restroom and was quickly followed by Brent. He tried fooling around who goes in first and use any excuse to hold me and touch me. He said how about we go both in together. I said no and he started to tease me. Not to be outdone, I said only on one condition he gets to come in with me. He fuffilled the condition, and the rest, as they say, is history. 
It was a real fun outing. 
Cindy
Copyright Ships & Ports Ltd. Permission to use quotations from this article is granted subject to appropriate credit given to www.shipsandports.com.ng as the source.