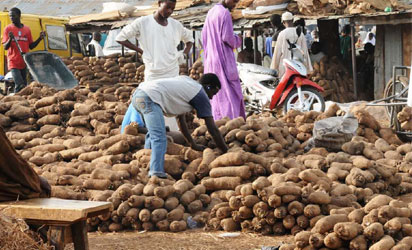 The National Association of Yam Farmers, Processors and Marketers has appealed to the Federal Government to sign relevant trade agreements with the European Union to facilitate duty-free yam export to Europe.
The association made the appeal in a communiqué issued in Abuja on Sunday at the end of its members' four-day study tour to Ghana.
The communiqué was signed by the association's President, Simon Irtwange.
The association said Nigeria yam exports to the UK attracted a duty (tax) of 9.5 Euros per 100kg whereas their Ghanaian counterparts pay zero export duty.
"The government of Ghana has signed the African Continental Free Trade Agreement (AfCFTA) and provisional application of the EU Free Trade Agreement (EUFTA).
"The trade agreement with the EU makes it possible for Ghana yam exporters to export yams to Europe and the UK duty-free. The Federal Government should sign this agreement. 
"They should also assist by way of pre-export incentives for yam exporters and the provision of warehouse in Lagos to serve as a National Yam Export Pack House.
"Assist with the production of cartons/boxes for yam exporters and assist with one-off purchase of two cold trucks to support transportation and export logistics.
"There should be rationalisation of bureaucracy in yam export making provision for only three agencies located under one roof as a one-stop-shop.
"The Nigeria Agricultural Quarantine Services, Standards Organisation of Nigeria, and Nigeria Customs Service, should be the agencies for the inspection of yams before export," the communiqué read in part.