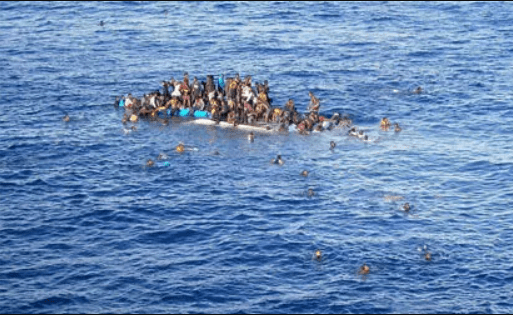 An unspecified number of Nigerians were among African and Asian migrants that died off the coast of Libya in their bid to travel to Europe by boat via the Mediterranean sea.
The publication stated that there were only 15 survived as others were drowned in what was described as "one of this year's worst tragedies" in the incident that took place last Wednesday at the Libyan coastal city of Zawara.
The spokesperson for International Organization for Migration (IOM), Safa Msehli, said the boat left Tuesday evening around 10pm with 92 Sudanese, Pakistani, Gambian, Nigerian and Ghanaian migrants on board.
"Three of the 15 survivors were transferred to a hospital after they were returned to land," he said.
He also disclosed that six bodies were retrieved by fishermen with support from locals, according to Msehli, and IOM officials visited survivors in the hospital after hearing about the incident from officials.
Despite grave dangers, tens of thousands of people try to cross the Central Mediterranean each year, normally setting off from Libya and sometimes Tunisia with the goal to reach the Italian coast. Last week, private rescue ship Geo Barents said it had rescued 99 people and found ten dead bodies at the bottom of the packed boat.
According to the IOM, close to 30,000 people have been intercepted and forcibly returned to Libya since the beginning of the year, close to three times as many as during the whole of 2020. Between November 7 and 13 alone, almost 800 people were intercepted and returned.
The number of migrants who have arrived by boat in Italy this year is also up. According to the latest data from the Italian interior ministry, the number stands at more than 61,000 people, nearly twice as many as at the same point in time in the pandemic year 2020.
Hundreds of others have died in the attempted crossing.
According to the IOM's Missing Migrants Project, more than 1,200 people have perished so far this year in the Central Mediterranean while trying to reach Europe. In comparison, there were nearly 1,000 deaths recorded in the Central Mediterranean in all of 2020.
Copyright Ships & Ports Ltd. Permission to use quotations from this article is granted subject to appropriate credit given to www.shipsandports.com.ng as the source.