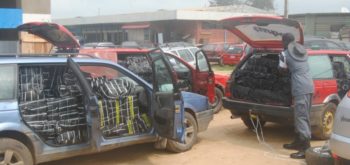 As the Nigeria Customs Service plans to commence electronic auction of seized goods at the ports and border stations, some freight forwarders and port users have lauded the development even as they called on the customs management to ensure full transparency of the exercise.
The speakers who expressed their views during a phone-in Ships & Ports radio program on Radio Nigeria's Radio One 103.5FM, also called for immediate implementation of the exercise.
One of them, Jeremiah Simon said it will be fair if everybody can bid electronically because the transaction could be carried out anywhere.
He noted that the manual process was carried out amid malpractices.
"We have been hearing about the electronic auction. The implementation is what we are waiting for because electronically, you can access your transaction anywhere you are. There are lots of frauds in the manual process that has been used for many years now. Electronic auction is the best; we want the implementation and not just talking about it on radio," Simon said.
Another caller, Mazi Konze advised that officers that will be deployed to drive the process should be officers with proven integrity.
He said, "The topic you are discussing today is a good one. If it is followed the way it is being said, it will be a perfect situation.  The computer is garbage in, garbage out. What you put in is what you get. We just pray that the right people will be given the responsibility to do what is right for the benefit of all Nigerians."
On his part, Joseph Philip said restricting Customs family members and relatives is the best way to go to ensure transparency.
In a separate interview with SHIPS & PORTS DAILY, the founder, National Association of Government Approved Freight Forwarders (NAGAFF), Dr. Boniface Aniebonam, called on the Customs management to consider first owners of goods to be auctioned.
According to him, sometimes an importer fails to clear his goods out of the port before they enter overtime due to circumstances, which sometimes are beyond his control.
He said, "An importer should be given the first right of choice to buy such goods during the exercise."
Copyright Ships & Ports Ltd. Permission to use quotations from this article is granted subject to appropriate credit given to www.shipsandports.com.ng as the source.