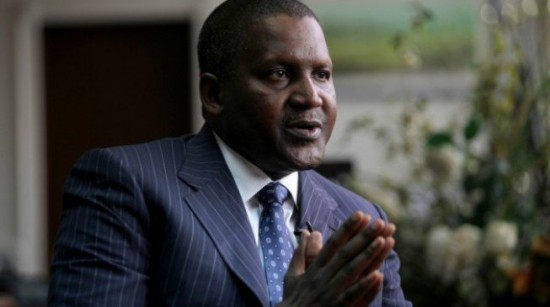 Many Nigerians on Tuesday expressed outrage over the decision of the Federal Government to allow Dangote Cement, BUA and an unnamed gas company to resume exports across the nation's land borders.
The borders were shut in August 2019 on the orders of President Buhari.
Group Managing Director/CEO of Dangote Cement, Michel Puchercos, however, announced on Monday that the Federal Government had granted the company waiver to export cement through the closed land borders.
The Nigeria Customs Service also confirmed the development on Tuesday, noting that besides Dangote Cement, two other companies – BUA and an unnamed gas company – have also been granted presidential approval to resume exports through the land borders.
National Public Relations Officer of Customs, Joseph Attah, said the exemption granted the three companies to resume export activities indicates that the ongoing diplomatic engagement between the Nigerian government and the governments of neighbouring countries was yielding results.
While noting that the border closure policy remains in force, Attah, who also doubles as the spokesman of the joint border security drill named 'Ex-swift response', said, "The speculation about the possibility of opening the border has always been there but I cannot fuel any speculation. The approval does not mean the border has been opened. What I can say is that the ongoing diplomatic engagement is yielding fruits. Government will review the situation and take appropriate decisions at the right time."
But many Nigerians, including former Chairman of Stanbic IBTC Bank, Atedo Peterside, took to social media to condemn the Federal Government's decision, which they described as unfair.
In a twitter post, Peterside said, "Allowing legitimate exporters & importers to move their goods across border should be a no-brainer. Why refuse everybody else & allow only one company (Dangote)?
"This is why some of us argue that the Nigerian economy is rigged in favour of a handful of well-connected persons."
Another twitter user @HappyJ said, "So our leaders will just fold their arms and watch this? This is unfair. People are hungry; things are too expensive in the market, while you watch one man making gains to the detriment of the poor masses. What kind of life are we living in this country?"
@Ethereal_ilo said, "Have you seen why it is absolutely impossible to be "ethical billionaire"? Dangote is literally building his wealth on the death and starvation of millions of Nigerians"
Another twitter user named Ego said, "That is the monopoly we are talking about. Even a fool will become a billionaire with this kind of help. In a country of 200 million people, you are the only one allowed to import and export from the land borders. #OneNigeriaIsAScam."
Agemo Olubukola, in a separate tweet said, "If you live in Badagry, you would understand how this useless policy is making life difficult. Our people cannot even export coconut; even dried fish is being treated as contraband. This government is just wicked."
@DrChiemeziem wrote, "My theory is that Dangote probably launders money for Nigeria's elites because there is no other plausible explanation as to why rules keep bending for him while his competitor's businesses are being frustrated from thriving."
The management of Dangote Group, in a statement issued on Tuesday, however, said it was not the only company enjoying such privilege to move goods through the land borders.
"Dangote Cement is a publicly quoted company and complies strictly with the Securities & Exchange Commission (SEC) and Nigerian Stock Exchange (NSE) full disclosure clauses and regularly update transparently our transactions to our shareholders and it is disheartening that such honest disclosure is being interpreted negatively," Dangote Group spokesman, Anthony Chiejina, said in a statement Tuesday.
The statement said Dangote Cement and other companies in July 2020, got partial special dispensation to export their products with certain sequence of crossing at Ilela land border in Sokoto State and Ohumbe land border in Ogun State.
"Chief Executive Officer, Dangote Cement, Michel Puchercos, in his presentation on investor call held this week explained that the company is continuously focused on exporting cement to West and Central Africa by sea through its export terminals.
"He added that six vessels of clinker were exported in the third quarter of 2020 via the Apapa export terminal, while plans are on track to commission the Port Harcourt export terminal before the end of this year.
"For the quarter, Dangote Cement exported only 69 kilotonnes of cement via the land borders, compared to previous volumes of 180 kilotonnes before the border closures, which indicates just 38 percent of the export volumes," Chiejina said.