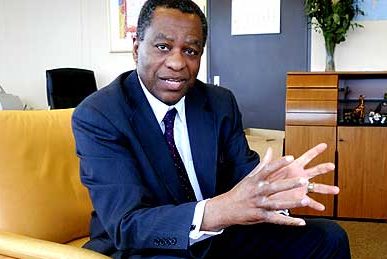 Against the background of the recent return of a fresh batch of 485 illegal Nigerian migrants trapped in Libya, the Minister of Foreign Affairs, Geoffrey Onyeama, gives account of his trip to Libya as the head of the team sent to the North African country to evacuate Nigerian immigrants held in 'slave camps'. 
Our mandate 
We were given all necessary resources to facilitate the immediate evacuation of Nigerian immigrants in Libya and no efforts were spared in this wise. The DG of NEMA was charged with the logistical arrangements to bring this about and the task of the delegation was to engage with the Libyan government at the very highest level to facilitate the evacuation because there were all kinds of challenges: political challenges, security challenges, etc., that did not make it a straight forward process.
Mr President approved that the composition of the delegation should reflect his vision of what we should be doing about the issue of irregular Nigerian migrants. So there was the immigration aspect of it, how they got to Libya without correct papers and giving emergency travel certificates for them to return. We had with us the federal commissioner for refugees and migrants and of course her person was very important in the context of the rehabilitation that has to be done. The DG of NAPTIP was absolutely key because NAPTIP is the organisation responsible for trafficking in persons. So Mr President has a very comprehensive vision for bringing the migrants out, addressing the political challenges and engaging with the authorities in Libya because the country is almost a failed state. You have different centres of power in the country. The central government recognised by the UN and the AU does not have full control of Libya and a lot of these migrants are in areas controlled by rebels and other forces.
Criminal elements
So, political and diplomatic engagement is extremely important because the criminal elements involved in this trafficking and illegal migration mean that a lot of our children are nothing more than commodities being sold to work in various parts of Libya, sexually abused and exploited for profit. And there are very influential people who have interest in these young boys and girls not returning to Nigeria because they are economic assets for them.
We were received warmly. The first person we met on arrival from the airport was the President of the country and he was very keen to disassociate the government and the ordinary people of Libya from these crimes against humanity. We also met with the community of Nigerians legally resident in Libya. Our first task was to visit the centres where these Nigerian boys and girls were being held and we visited probably one of the biggest where we saw about 350 of them. What struck me was how young they were.
A moving sight
As we approached, they all stood up and sang with passion the national anthem. They were so enthusiastic to see us; it was a very moving sight. We had of course spoken to the guards before we met them and naturally they gave us the impression that the Nigerians were being well looked after. The girls were brought separately from the boys.
The girls told us they were more that as they hadn't brought all Nigerians there out. They pointed out that there could be repercussions if they said too much to the media. So we had to be mindful not to expose them to danger but some of them were very brave. We insisted that the authorities needed to find those other Nigerians and about 300 plus Nigerians were brought out from different parts of the camp. There were horror stories that a number of them had to tell and we represented that hope they had almost lost. We promised them that we were going to take them back within a day or two and they were ecstatic.
We went to a small camp and there were three girls who were rather distressed. They said they were victims of trafficking and they brought a Nigerian lady who was a trafficker. The officials in the camp didn't want us to meet with them alone but we insisted. It was a bit of a fight but, in the end, we managed to stay with them without any official being there.
Lady trafficker
The girls told us how extremely difficult things were for them. We even spoke to the lady who was a trafficker and we insisted that we wanted to take all of these people back home with us. At our meeting with members of the Nigerian community resident in Libya, some of them said we should make representation to the government of Libya because, sometimes, they would be walking on the streets with their correct papers and some officials would come, arrest them and take their papers, destroy the papers and say they are illegal migrants. We went to two other detention camps where we met more Nigerians who told us that some of them didn't want to go home because they were seized from the streets and brought to that camp. They said they didn't have their properties with them at the camp and wouldn't want to leave without the properties. So we got assurance that they would be allowed to go and collect their properties before coming.
Nigerians as Libyan government officials
One of the camps was very interesting because they were using Nigerians as Libyan government officials. Among them were two young ladies who said everything was going on smoothly and that inmates were being treated well but you would expect that because they were now working for the government as it were.
We met with the IOM (International Organisation for Migration), which has been helping in the evacuation of Nigerians. We found that some Nigerians are held in camps outside the areas controlled by government and that is going to require maybe some negotiations.
We heard all kinds of stories. Some of them told us that those holding them will come at night and take them to some places to work for free, almost as slave labour, or the girls are taken out to be sexually exploited before bringing back into the camp.
The Libyan government told us that if there is any case that they find of an official engaged in this kind of activity, they would bring down the full force of the law on such person.
Rehabilitation and advocacy
The first batch of about 481 migrants are back home through Port Harcourt airport; we chartered the planes that brought them in but that is not the end of it.
The next stage is rehabilitation, which is really important. We are hoping that we can use them as advocates so that other Nigerians youths will not be tempted.
We know that there are criminal elements involved in this, so our agencies NAPTIP and others have to redouble their efforts to track, target and dismantle all these criminal networks that facilitate the trafficking of our children.
Identifying Nigerians 
Our experts are on ground in Libya, they interview and get indices but where there are disputes, we have cases where some people said "this is a Nigerian" and the man, because he doesn't want to come back home, it is not all of them who want to come back, will say "I am not a Nigeria, I am from Sudan".
We will interview the person and we have the forensic documents by passports, most of them have passports but they tore along the way; so once you put your fingers in our machines in Libya, we will know. Some will tell you, "we don't even need the machines, we know our citizens".
Counselling and rehabilitation or reurnees 
The rehabilitation period will be from zero to six months depending on how responsive the person is and, while we are rehabilitating them, we are also teaching them skills and it is not just teaching them the skills, at the end of that, we are going to give them tools to apply the skills they have acquired in business.
And we don't stop there; we monitor them for another two years to be sure they don't go back.
In the briefing of the returnees, we try to get as much information from them as possible and, sometimes, we are lucky to get information we are able to use to trace the traffickers in Nigeria or in Libya and we prosecute them.
Right now, we have a technical team on ground in Libya and it is not just profiling but it is also trying to get information as much as possible and I am sure they will come back with something.
Duration of rescue operation 
Based on the approval given by Mr President, from the time we started this, we have already spent 17days, so we have about 21days to conclude the operation.
Fate of those in rebel-controlled camps 
Those that are outside are difficult to really quantify because access to those camps are not so easy. We are liaising with the International Organisation for Migration to access the camps.
For those that are not in government-controlled areas, clearly we will have to negotiate to be able to bring them back home.
Prosecution of traffickers
So far, we have prosecuted 365 and we hope to get many more because there are still a lot of cases in court and, almost every month, we get a conviction. We have a team on ground in Libya trying to get the information we need to arrest more and prosecute them. This batch of 485 that came in, they have to be filtered and to see whether there are traffickers among them. While we were in Libya, we met somebody who was being prosecuted for human trafficking, so it is an on-going process.
Copyright Ships & Ports Ltd. Permission to use quotations from this article is granted subject to appropriate credit given to www.shipsandports.com.ng as the source.