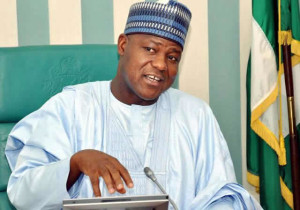 The Speaker of House of Representatives, Yakubu Dogara, said it was unacceptable that Nigerians spent $5 billion on generators annually.
He said the house would support the Executive to find a permanent solution to the power problem in the country.
Dogara stated this on Tuesday in Abuja at the public hearing organised by the House of Representatives Committee on Power on three Bills pending before the lower chamber.
He explained that the lawmakers were reviewing some of Nigeria's energy laws to provide the appropriate legal framework that would facilitate the exploitation of renewable energy to the benefit of the economy.
According to him, power is arguably the single most important driver of the national economy.
"Indeed, it is difficult, if not impossible, to imagine modern life without power. Our industries and factories need electricity to operate, and also our offices, homes and businesses.
"It is estimated that Nigerians spend about $5 billion yearly to fuel their generators.
"This is an unacceptable situation and the House of Representatives stands ready to support the Executive arm of government to put a stop to this state of affairs.
"Renewable energy is a source of clean energy which is environment-friendly and is crucial to the economy of the future.
"We can only be self-sufficient in the energy field when we combine all our energy resources such as wind, solar, hydro, biomass, biofuel, landfill, sewage gas, solid waste, geothermal energy, ocean energy among others.
"Renewable energy sources are natural and often replenish themselves. Nigeria needs to invest more in renewable energy as fossil fuel is a diminishing asset.
"An appropriate legal framework to exploit renewable energy which is nature's gift to mankind is not adequate in Nigeria.
"This makes it difficult to organise the sector in a commercially viable matter. Herein lies the merit and strength of this Bill under consideration," the speaker said.
Earlier, Chairman of the House Committee on Power, Daniel Effiong, had welcomed stakeholders and advised them to make inputs to enable the house to come out with enduring laws to grow the industry.
The House had at the inception of the 8th Assembly, committed itself to a Legislative Agenda (2015 – 2019) to devise "Legislative Initiative on Power".
This was with a resolve that it "shall take legislative action to tackle Nigeria's energy crisis that has led to a general collapse of industries and businesses and inflicted hardship on citizens.
"Legislative measures to support improved generation and distribution of electricity to homes and businesses will be encouraged". 
Copyright Ships & Ports Ltd. Permission to use quotations from this article is granted subject to appropriate credit given to www.shipsandports.com.ng as the source.