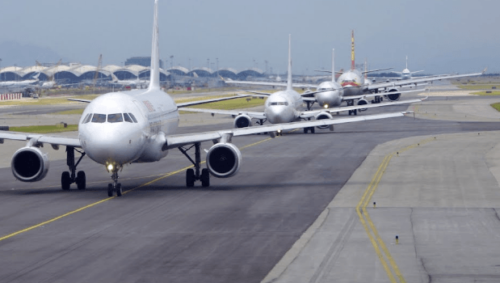 Domestic airlines operating in Nigeria recorded 7,926 cases of delayed flights between January and March 2019.
The Consumer Protection Department of the Nigerian Civil Aviation Authority (NCAA) made this known in Lagos on Tuesday.
NCAA said 14,735 flights were operated by eight airlines during the period under review.
According to the agency, 181 flights were cancelled for various reasons by different airlines which are: Aero Contractors, Arik Air, Air Peace, Azman Air, Dana Air, Med-View, Overland and Max Air.
It said Air Peace, which operated 5,768 flights, toppled the delayed flight chart with 3, 058 and 66 cancellations, while Arik Air followed with 1,376 delayed flights, 32 cancellations out of its 3,001 flight operations.
It also stated that Aero operated 1,535 flights with 951 delayed and 31 cancelled flights, while Azman Air recorded 637 delayed and eight cancellations out of the 1,301 flights operated by the airline. Dana Air operated 919 flights with 587 delayed and 25 cancellations; Overland, 612 flights with 421 delayed and six cancellations.
The rest are Max Air, which operated 1,416 flights with 810 delayed and four cancellations as well as Medview, operated 183 flights with 112 delayed and nine cancelled flights.
According to the airlines, the delays were due to operational reasons, scarcity of aviation fuel as well as adverse weather conditions leading to low visibility at most of the airports.