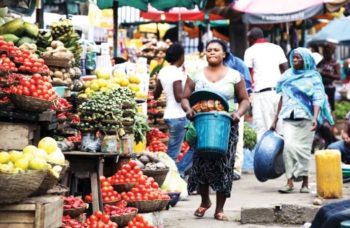 The Nigerian economy is gradually coming out of recession, with the annual inflation falling in June for the fifth straight month, the National Bureau of Statistics (NBS) said Monday.
The bureau said inflation, measured by the Consumer Price Index, fell to 16.10 per cent, lower than 16.25 per cent rate recorded in May.
"The latest index represents the fifth consecutive decline in the rate of inflation since January 2017," the statistics agency said.
The index reflects the average change over time in prices of goods and services consumed by people for day-to-day living.
On a month-on-month basis, the NBS said the index was 0.30 per cent lower than 1.88 per cent recorded the previous month.
The report noted that the price movement reflected the eigth straight month of decline in the core index since November 2016.
The Urban index rose by 16.15 percent (year-on-year) in June 2017 from 16.34 percent recorded in May, while the Rural index increased by 16.01 percent in June from 16.02 percent in May.
On month-on-month basis, the urban index rose by 1.60 percent in June from 1.84 percent recorded in May, while the rural index rose by 1.57 percent in June from 1.92 percent in May.
The corresponding 12-month year-on-year average percentage change for the urban index increased from 18.88 percent in June to 18.69 percent in May.
Corresponding rural index also increasing from 16.50 percent in May to 16.56 percent in June.
Further review of the latest report showed that the Composite Food Index rose by 19.91 per cent during the month.
The rise was as a result of increases in prices of meat, bread and cereals, fish, potatoes, yam and other tubers, oils and fats, milk, cheese and eggs, coffee, tea and cocoa.
The highest increases were recorded in prices of solid fuels, clothing materials and other articles of clothing and clothing accessories, liquid fuels, spirits, books and stationeries, passenger transport by air, garments, shoes and footwear and motorcycles.
The average 12-month annual rate of rise of the index was at 16.22 per cent for the 12-month period ending in June 2017, about 0.35 per cent points lower from the 12-month rate of change recorded in May.