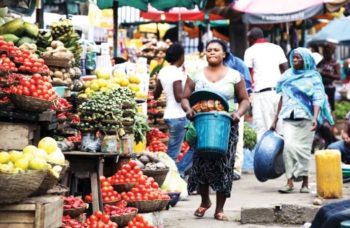 Annual inflation in Nigeria slowed for an eighth month in September, easing to 15.98 percent, the National Bureau of Statistics (NBS) said on Tuesday.
The rate of annual inflation was 0.03 percent percentage points lower than the rate in August.
A separate food price index showed inflation at 20.32 percent in September, up from 20.25 percent in August.
"Food price pressure continued into September as all major food sub-indexes increased," the NBS said in its report.
"The rise in the index was caused by increases in prices of potatoes, yams and other tubers, milk cheese and eggs, bread and cereals, coffee tea and cocoa, soft drinks, fish, meat and oil and fats," it added.
Last month, Central Bank Governor Godwin Emefiele said the bank's monetary policy committee noted that high food inflation in the last few months could be traced to rising prices of farm inputs and supply shortages.
He said the committee also cited the impact of intermittent clashes between farming communities and mostly nomadic herdsmen, as well as weak harvest due to increased flooding of farmlands, as having had affected food prices.
Nigeria, which has Africa's largest economy, emerged from its first recession in 25 years in the second quarter as oil revenues rose. But the pace of growth was slow, suggesting the recovery remains fragile.
The World Bank in a report last week said it expected Nigeria's economy to grow by 1 percent in 2017 – 0.2 percentage points below its forecast in April.
Agency Report