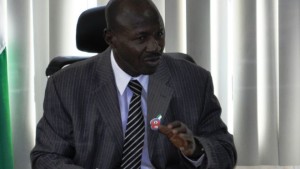 The Acting Chairman of Economic and Financial Crimes Commission (EFCC), Ibrahim Magu on Tuesday labelled corruption as the biggest challenge facing Nigeria.
Magu said this in Abuja at a lecture on "Corruption and national development: Issues, challenges and solutions" delivered at the 20th anniversary celebrations of the Finance Correspondent Association of Nigeria (FICAN). 
He said that never in the history of the agency has corruption being fought in a manner it is being addressed by the EFCC, adding that with the successes so far recorded by the agency, the era of impunity is over.
He said, "To state that Nigeria has all it takes to truly be the giant of Africa is to state the obvious. We are blessed with both human and mineral resources.
"But, why have we been unable to explore and exploit our potentials to the fullest? Corruption.
"Corruption is the reason why our hospitals have remained in deplorable states. To put it more bluntly, the single major problem militating against our national development is corruption.
He added, "Most crimes against humanity are perpetrated using the proceeds of corruption, monies obtained through illegal activities, illicit cashflows and money laundering.
"But we are winning the war against corruption because the age of impunity is over. Never again would anyone be treated as a sacred cow."
Represented by the Head, Public Interface Unit, EFCC, Tony Orilade, he said a lot of successes have been recorded in the fight against corruption, those benefiting from corrupt practices are seriously fighting back.
He added, "As much as we are striving to fight corruption to a standstill in Nigeria, sadly it is fighting back, really hard.
"In the history of the EFCC's 14 years of spearheading the fight against corruption, the fight-back has never been this savage. What won't they do to silence the commission and its dutiful officials?
"On August 16, 2017, unknown gunmen attacked the commission's headquarters in Abuja. They left behind a white envelope that contained a death threat addressed to one of our officers."