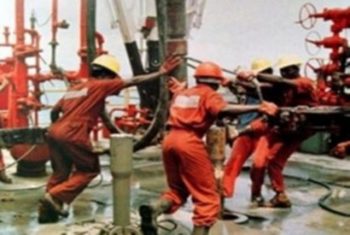 The cost incurred to produce a barrel of crude oil in Nigeria has declined to $27 per barrel as at year end 2016, from more than $70 per barrel in 2014, the Nigerian National Petroleum Corporation (NNPC) said in a tweet on Thursday.
NNPC in the tweet said its Group Managing Director (GMD) Dr. Maikantic Baru made the disclosure at the 14th Annual Aret Adams Memorial Lecture in Lagos.
Baru, who was represented by the corporation's Chief Operating Officer (COO) Gas and Power, Engr. Saidu Mohammed, spoke on the theme: "Find More, Produce More"
The GMD said since coming on board in 2016, the NNPC under him has recorded a significant reduction in the cost of oil and gas production.
"I am proud to announce that our Unit Technical Cost (UTC) has significantly dropped from above $70 p/b in 2014 to about $27 p/b as at year end 2016," Baru said.
He said that with reduced cost of production, government's share of economic revenue will improve which means reduced budget deficit.
Despite recording significant drop in the cost of producing a barrel of crude, Nigeria remains the third most expensive country to produce oil in the world.
According to a recent Wall Street Journal's (WJS) survey of 12 notable oil producers, Nigeria stands behind the United Kingdom (UK) and Brazil in the production cost analysis. Both countries produce a barrel of oil at $44.33 and $34.99 respectively.
The survey said production in Nigeria was more expensive than it is in the United States despite US use of expensive technology which combines horizontal drilling and a technique known as hydraulic fracturing to mine its Shale oil.
However, Minister of State for Petroleum Resources, Dr. Ibe Kachikwu had last year said his tenure will work hard to reduce the cost of crude production below $18 per barrel.