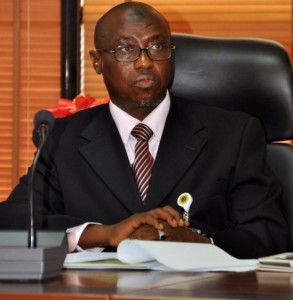 The Nigerian National Petroleum Corporation (NNPC) says it has successfully reduced the cost of producing one barrel crude oil to $23 from $78 as at August 2015.
According to a statement signed by Ndu Ughamadu, the corporation's spokesman, this fact was disclosed at the inauguration of the anti-corruption committee by Dafe Sejebor, Group General Manager of National Petroleum Investment Management Services (NAPIMS), a unit at NNPC.
In his speech, Sefejor said Nigeria now saves $3 billion annually as a result of this development.
"If you knock down your cost of production from $78 per barrel to $23, take the difference and multiply by the average daily production, you will discover that we are saving a minimum of $3billion in the upstream for both Production Sharing Contracts (PSCs) and Joint Ventures (JVs)," he said.
Sefejor said the target is to reduce the cost of production to between $17 and $19 for onshore and offshore production respectively.
At $23, Nigeria's cost of production is still higher than those of countries like Saudi Arabia, Iran and Iraq which produces at about $9 to $10 per barrel.
"He commended the federal government for its support to the NNPC management in tackling the challenges in the petroleum industry, especially the cash call exit agreement signed in 2016 and the reduction of contracting circle from three years to six months," the statement read.
Sejebor said the new petroleum policy was necessary because of the difficulty in operating the sector with the framework of the old Petroleum Act as the passage of the Petroleum Industry bill has been delayed at the national assembly.
He said the policy would restore investors' confidence in the industry pending the full passage of the entire PIB by the national assembly.
He admonished staff to key into the NNPC management's zero tolerance for corruption.
When Maikanti Baru, group managing director of the NNPC, had inaugurated the anti-corruption unit at the headquarters recently, he had directed all the strategic business units (SBUs) and corporate service units (CSUs) to establish their own anti-corruption committees and NAPIMS was the first to comply with the directive.  
Copyright Ships & Ports Ltd. Permission to use quotations from this article is granted subject to appropriate credit given to www.shipsandports.com.ng as the source.