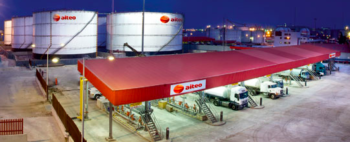 The Nigerian National Petroleum Corporation (NNPC) has debunked claims that Aiteo Eastern Exploration and Production Company is among the oil firms it is allegedly set to recover crude oil allocation accruals worth $42 million from spanning 2012 through 2014.
A top NNPC source who spoke on condition of anonymity urged the public to summarily dismiss what he termed the "fabricated" report, since both parties enjoy a cordial working relationship and currently share a Joint Venture (JV) tipped to be currently the best performing asset in Nigeria.
"Aiteo has met all its obligations to the NNPC in full and is not indebted to the Corporation or any of its subsidiaries. If and when there are outstanding debts to be cleared, we will duly inform Aiteo. But we have no ties to unsubstantiated reports claiming that we have Aiteo on our shortlist for debt recovery," the source said. NNPC is a professionally run MDA and will never communicate with its JV partners on the pages of newspapers.
Last week, some online publications alleged that following President Muhammadu Buhari's directive, the Dr. Maikantu Baru-led NNPC had set machinery in motion to recover $42,339,372.22 million as unpaid debts from the trio of Benedict Peter's Aiteo, Igho Sanomi's Taleveras and Walter Wagbatsoma's Ontario, as part of a larger plan to hold local and foreign oil firms accountable for debts owed the Corporation.
When contacted, Aiteo Group's Senior Corporate Communications Manager  Ndiana-Abasi Matthew said: "We do not respond to gossip.
Previous official rebuttals on this issue are in the public domain for all to reference."
Investigations reveal that Aiteo collaborated with Duke Oil in the SWAP crude oil-for-refined-products-exchange programme and Offshore Processing (OPA) Agreement in 2015.
However, Inside sources from the NNPC assured that both were governed by robust legally binding agreements backed by the necessary financial instruments to mitigate and manage potential risks which include bad debts.
According to the source: "The claim that President Muhammad Buhari has told the NNPC boss, Dr. Maikanti Baru, to recover every penny owed the Corporation…' is a clear pointer to any discerning media house that the report is completely false and malicious. If not, how could the initial report (dated 12 March, 2017) a day before the President resumed work after 49 days of medical leave abroad, possibly quote the President as making such a claim?"
In what industry sources describe as one of the most competitive bids, Aiteo won the 45% rights on offer on OML 29 in the Niger Delta divested by Shell Petroleum Development Company (SPDC) in March 2015. The remaining 55% is held by the Federal Government through the NNPC. Aiteo is the operator of the Joint Venture.
In another development, the NNPC has assured that the shutdown of Shell Nigeria Exploration and Production Company's (SNEPco) Bonga Oil Field for maintenance is being managed not to affect the financial performance of the corporation this year.
The source, who spoke with our correspondent exclusively, said the NNPC would work to minimise the impact of the 225,000 bpod in Bonga.
The source said: "We assure Nigerians that production output will not be significantly affected holistically this year, as we will work round the clock to optimise production output to average out this shut in."
Recall that earlier this month, SNEPco shut down the Bonga Floating Production Storage and Offloading vessel for turnaround maintenance which involves inspections, recertification, testing and repair of equipment, among others.
It was envisaged that the routine maintenance would drastically reduce Nigeria's crude oil exports, since SNEPCo produces under a Production Sharing Contract (PSC) with the NNPC.