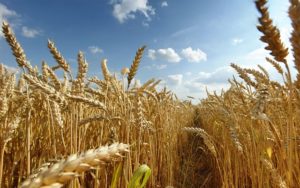 The Executive Director, Lake Chad Research Institute (LCRI), Maiduguri, Olowasina Olabanji, has said Nigeria expends about $4.2 billion on wheat importation annually.
He made the disclosure at a capacity building workshop for wheat farmers in the South-South Agro-Ecological Zone in Benin, Edo State, on Wednesday.
Olabanji said the event was aimed at bridging the gap between national consumption and local production of wheat in Nigeria.
"Our national consumption of wheat is about 4.7 million metric tonnes, while our production is less than what we consume.
"In order to bridge the gap between what we consume and what we produce, we need to expand our scope to the South West, the South East and the South-South.
"Although, wheat is mostly grown in the Northern part of the country, research has shown that it can also do well in the South-South, it is a crop that can adapt to new environment," he said.
"We have come to sensitise farmers here and prepare their minds towards engaging in wheat production,'' he said.
Olabanji added that plans were underway to reduce wheat importation by 60 percent in 2025, adding that Nigeria had the potentials to be self-sufficient in wheat production.
He said Nigeria had 650,000 hectares of land for wheat production in the North and about 80,000 hectares for wheat production during the rainy season in Cross River, Jos and Taraba.
Olabanji said the Federal Government was committed to the diversification of the nation's economy through agriculture, adding that the capacity building for the farmers is to train the trainers.
"After the training, we are going to help the farmers get some farm equipment, organise them into cooperative groups to enable them access incentives, inputs and grants to commence expansion of wheat production.
"Our expectations are that many farmers In the South-South region will add value to the wheat value chain in Nigeria," he said.
Also speaking, Wheat Coordinator, Ministry of Agriculture and Rural Development, Naplitali Telta, said the initiative was to conserve the nation's foreign exchange by increasing local production of wheat.