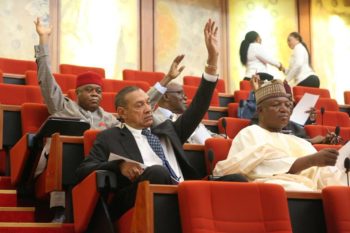 The Senate has mandated its Committee on Banking and Finance, to begin the process of confirming four presidential nominees, as members of the Monetary Policy Committee (MPC) of the Central Bank of Nigeria (CBN).
This followed the adoption on Wednesday of the communication from President Muhammadu Buhari, requesting the Senate to confirm the nomination of the four appointees.
The Monetary Policy Committee nominees are Prof. Adeola Adenikinju, Dr Aliyu Sanusi, Dr Robert Asogwa and Dr Asheikh Maidugu.
The lawmakers would also consider Buhari's request that Aisha Ahmad and Edward Adamu be confirmed as CBN Deputy Governors.
Moving for the adoption of the request, the Senate Leader, Sen. Ahmed Lawan said that the process was in accordance with the provisions of Section 12 (1)(4) of the CBN Act 2007.
The President of the Senate, Dr Bukola Saraki, gave the committee one week to consider the requests.