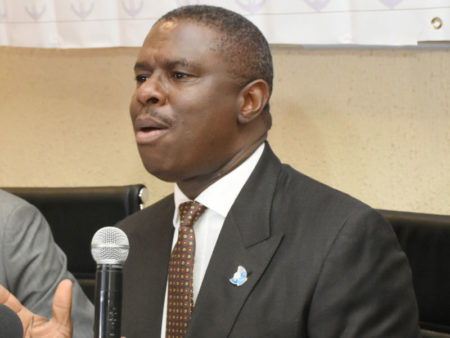 Despite owning a floating dock acquired at a whopping sum of more than N50 billion and that has been lying idle for over a year, the Nigerian Maritime Administration and Safety Agency (NIMASA) has awarded a contract worth N248,850,000 to one Thames Hudson Consulting and Contracting Limited for the dry docking and repair of one of its boats, MV Ofure.
MV Ofure is a search and rescue boat that has been in service since 2000.
Thames Hudson Consulting and Contracting Limited is not known to own any ship repair facility either in or outside Nigeria. The foreign company merely engages in brokerage with a few shipyards outside Nigeria. The company admitted this much on its website, stating that it merely operates "like a project management company". 
Recall that NIMASA had in June 2018 took delivery of the much-touted floating dock, which it said would help boost ship repair capacity, generate wealth and create employment for Nigerians.
According to the Director-General of the agency, Dakuku Peterside, "Nigeria loses up to $100 million annually simply because when our ship owners need to dry dock their vessels, they mostly take them to neighbouring countries like Ghana and Cameroun thus spending avoidable foreign exchange. When this facility is fully operational, it has the capacity to dry dock any vessel in country and save the much needed foreign exchange."
Clearly, the promises by Dakuku concerning the use of the floating dock is a fluke as the agency continues to waste huge taxpayers money on foreign dry docking of its vessels. What is more, the agency has sidelined indigenous ship maintenance yards like Starzs Marine Engineering Limited, Nigerdock and the Nigerian Naval Dockyard in maintaining its vessels in contravention of the provisions of the Coastal and Inland Shipping Act (Cabotage Act) 2003. 
This development has further confirmed the fears of stakeholders that NIMASA is really at a loss as to what to do with the floating dock after the huge investment it had committed to its acquisition.
A memo seeking the approval of the NIMASA's Parastatal's Tender Board (PTB) for the award of the contract, exclusively obtained by SHIPS & PORTS, and signed by Head, Maritime Safety and Seafarers Standard Department, Capt. Sunday Umoren showed that the contract will run for a period of six months.