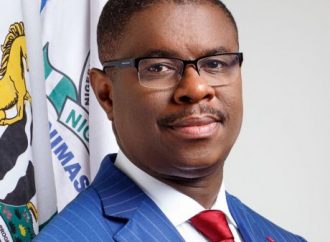 Fresh documents made available to SHIPS & PORTS DAILY weekend has revealed discontent by some staff of the Nigerian Maritime Administration and Safety Agency (NIMASA) over their inability to make use of a Fast Support Intervention Vessel (FSIV) purportedly being hired at a whopping sum of USD10,500 (N3.78 million) daily by the agency. 
A memo dated 24th May 2019 titled "Highlight of weekend operations on 19th May 2019" and signed by one Aina A. Akinbola, stated that NIMASA enforcement officers encounter challenges in the course of performing their tasks due to the non-availability of boats to convey them to the locations of the FSIV.
The memo, which was addressed to the agency's Assistant Director of Operations, reads in part: "Enforcement Officers roster for operations on 19th May 2019 encounter the challenges of non-availability of fibre boat which they do hire to convey them to the position where NIMASA FISV are anchored.
"After waiting for about six hours on Sunday 19th May 2019, they had to leave without accomplishing the mission they came for.
"Sir the implication of this is as follows: 
"The inability of our Officers to use the FISVs on Sunday 19th May 2109 as scheduled by the Agency hampers the operations for the day.
"Wastage of effort of our officers/avoidable man hour lost." 
Akinbola advised that the operators of NIMASA small boats be compelled to be available on weekends to convey the enforcement officers to the position of FISVs to avoid the monumental loss of resources and man-hours. 
Various official documents leaked recently by top officials revealed that the Director-General of NIMASA, Dakuku Peterside, has been awarding contracts worth over one million dollars monthly to hire FSIVs since 2017. This is despite a $195 million maritime security contract awarded to an Israeli firm, HLSI Security Systems and Technologies Limited, to provide the same service.
Documents obtained exclusively by SHIPS & PORTS DAILY reveal that the agency has been hiring the FSIV from different companies, namely Peace Marine and Energy Limited (PMEL), Fairway Offshore Limited, XPO Marine Services Limited and Thamson Energy Services Limited.
Several maritime industry stakeholders and NIMASA officials have demanded a probe of the agency over the contract awards, which they claim lacks transparency.
NIMASA spokesman, Isichei Osamgbi could not be reached before press time to respond to the complaint of the agency's staff with regards to the FSIV.