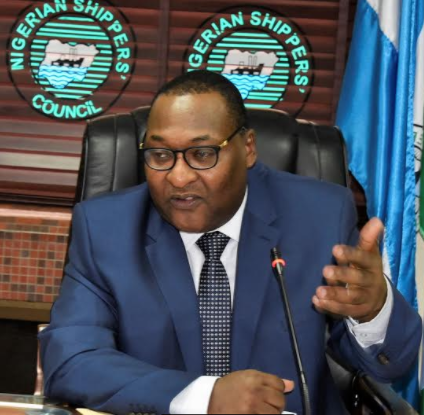 The Executive Secretary/CEO of Nigerian Shippers Council (NSC), Mr. Hassan Bello, is at present the longest serving maritime agency CEO in Nigeria. In this interview with Shulammite 'Foyeku, the lawyer turned administrator, speaks on efforts by the National Fleet Implementation Committee, which he currently chairs, to address the challenges hindering the successful establishment of the much touted national fleet. He said the country is losing huge revenue due to the absence of a national shipping line.
Excerpts:
Sexual harassment and gender discrimination have been identified as major challenges facing female seafarers on board ships. What do you think can be done to address this problem so that more women can pursue seafaring careers?
The reason for the low percentage of women in seafaring is understandable. It ranges from the harsh working environment in the sea to issues such as sexual harassment, gender discrimination and inappropriate comments. Section 17 of the Nigeria constitution states that every citizen should have equal right before the law. Despite this catalytic provision, it has not been easy for women to fight gender discrimination. But the issue is not actually whether women are going to be employed, but on what ships? We need to have those ships before women are employed. Even the men; how do they fare as seafarers when we don't have ships? In the international carriage of goods, Nigeria does not have a single ship, so all what we have been doing is slave for foreign ships. $9 billion and rising is what we pay in 2015, not for Nigerian ships but ships elsewhere. Imagine what the earnings of freight will do if these are Nigerian ships? When we talk of Nigerian ships, we are also talking about our banks, insurance companies, mariners, seafarers, surveyors and our seamen. All these are not gaining because we don't have ships. But we are going to create the national fleet. The Nigerian Maritime Administration and Safety Agency (NIMASA) is now on board this project. When that comes into fruition, then we are going to have a policy that all ships must contain certain number of women. But the idea is what NIMASA and Shippers' Council are doing now, going to secondary schools, academies and telling women that there are boundless opportunities in the shipping sector.
As the Chairman of the National Fleet Implementation Committee, what is the level of work done so far by your committee to ensure the realization of the national carrier project?
The national fleet is a three-year programme. We can't have a national fleet that is not enduring or sustainable. We could as well have collected a few ships and say this is the national fleet and then tomorrow, they are gone because the conditions necessary for fleets do not exist in Nigeria. There are policies, laws, taxes, and lot of impediments, which we are now cleaning. The national fleet implementation committee is working closely with NIMASA and the Economic Management Team led by the Vice President with the Ministry of Budget and the Nigerian Investment Promotion Commission. Many meetings have been held with key industries especially the Federal Inland Revenue Service (FIRS) so that there will be some incentives. We have to incentivize the private sector. Don't forget government will not spent a kobo on this. It is a private sector led project. So we will clean up, incentivize investors so that they can invest. If we invest in shipping, we will have ships that carry Nigeria goods and NIMASA will give them the status of the national carrier. Once this is done, all government cargo will be carried by those ships because they will be given priority. It is when they don't have space or contract that others will be given the chance. You can imagine if all the contracts we are doing on railways, construction of buildings, all goods coming in for government is meant exclusively for this national carrier. So we will have long contracts and lots of cargo to carry. If that is done, then that will translate into the economy. Right now, shipping as a whole is contributing 0.1 percent into the GDP of Nigeria but that is not good, we cannot have that. Every country should be proud to have their ships and their nationals operating and carrying the national flag. We need to have that. Now that NIMASA is involved, we are going to look at the registration of ships, we have to reform it and make it more attractive. We have to look at our nautical colleges, the Maritime Academy, Oron and others, so that they will be integrated into this. Then, we need to have associated industries, ship repairs and ship building yards; all these are integral part of owing a national fleet. They are critical, otherwise, we will be taking our ships to other countries for repair. That will be a drain. That is why most times, when journalists ask me when we are getting the national fleet, I will say, it is not buying akara from the market. National fleet is a three-year programme, where we have to sanitize and incentivize the private sector.
Your committee is engaging the Nigeria Customs Service on taxes. How far have you gone on that?
We have Customs in the committee and what we have been saying is that duties should not be paid on the ships we are going to bring. That means we are giving the foreigners advantage because they don't pay duty. Every country, despite globalization or internationalization will have to look inward. We don't have to be deceived by this globalization; we have to protect what belongs to us somehow and be competitive, and that is what we are trying to do. The government is not putting any money on acquiring the ships but they will have to produce that effective and conducive environment for shipping to thrive.
Let's talk about the Apapa gridlock. The traffic is moving gradually, but how well do you think this can be sustained?
We have to look at the short, medium and long-term measures. The short-term measure is what we have been able to do to restore sanity, stop corruption and bring orderliness on the roads and that is what we are seeing. But now we have to also bring modern traffic management system. The situation in Apapa is the failure of planning. For instance, Apapa port was planned to handle 23 million metric tons a year, but now about 83 million metric tons of cargoes are imported through the port annually. A port with capacity of 23 million metric tons in the 70's and our population must grow 2.5 percent every year. Why won't we have the crisis we are having now? It is a natural thing for the Tin Can and Apapa ports to be overwhelmed after about 45 years. Our population is growing and our consumption pattern is changing and now we are importing so many things and exporting several commodities at the same time. The Nigerian Shippers' Council has carried out a study and we know what the problems are. The problem is having 7000 truck everyday in Apapa, whereas what you need is just 1,600 so you have an excess of 5,400 doing nothing. How can anybody allow over 5,000 excess trucks to be in Apapa? Some will be going round and looking for cargo to carry. That is not acceptable. The Nigerian Ports Authority (NPA) is supposed to own the whole of Apapa, you cannot erect a kiosk without the permission of the Nigerian Ports Authority. But Nigeria is beleaguered by so much indiscipline such that anybody could create something and then, they get certificate for it. In the long term, we should have a modern transport management system. Last week, about 30 containers were loaded on the train to Kaduna inland port. That is how a country's transport system should work. Cargo is not to spend more than 10 minutes at the port. The port is not a storage area; it is a transit area. It is where you process release of cargo and let it go. Why should a cargo spend 20 to 30 days at the port? It is not acceptable and it shouldn't be. That is why we are creating the dry ports. The construction of the dry port in Ibadan will soon start and it will be 40,000 TEU capacity. It is going to be built probably by the Chinese company. It is a $500 million project. We have Kaduna, we will soon get others in Kano and Isiala Ngwa working and there will not be all these problems in our port but these are long-term projects.
In the short term, we have to maintain the order and the discipline we have created. I also have to thank the truck unions who came together towards solving the problem. I have to appreciate the shipping companies and terminal operators. Every player in the sector has come together because we are having an emergency in Apapa and we hope the Apapa horror will never be repeated. We now have a deep seaport in Lekki. We have to start asking where are the access roads to the port in Lekki? We have the seaport, te Dangote Refinery, and a fertiliser company there. We have to ask: 'where are the roads to these points?' Otherwise, we may have the same problem as Apapa. I am not a prophet of doom, but I don't want the Apapa mistake to be repeated anywhere in Nigeria.
Copyright Ships & Ports Ltd. Permission to use quotations from this article is granted subject to appropriate credit given to www.shipsandports.com.ng as the source.