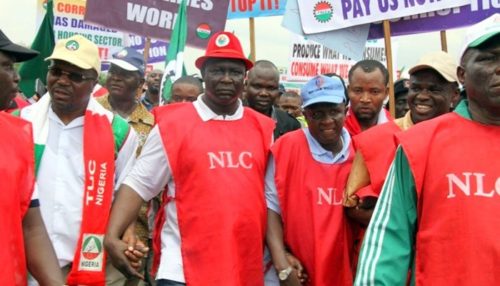 By Omotilewa Quadri 
The Nigeria Labour Congress (NLC) says Nigerian workers were running out of patience with the government over the delay in implementation of the new national minimum wage. 
NLC therefore wants President Muhammadu Buhari to take urgent steps to address the lingering issue around the new minimum wage by immediately forwarding an executive bill to the National Assembly to legalise the recommendation of a tripartite committee set up by the Federal Government. 
The national minimum wage tripartite committee submitted its report to President Muhammadu Buhari three weeks ago. It recommended a review of the present minimum wage by 66.7% from N18,000 to N30,000. 
However state governors under the aegis of the Nigeria Governors' Forum (NGF), have rejected the committee's recommendation, arguing that most states will run bankrupt if compelled to pay the N30,000 minimum wage. 
Speaking at the 2018 Harmattan School of the Congress in Abuja, Wabba said workers are running out of patience on the implementation of the new minimum wage.
He described as unfortunate the position taken by the governors who are unwilling to pay the N30.000, but are spending billions of dollars in the name of security votes they can't account for.
The NLC President dismissed claims that the implementation of the new national minimum wage would lead to inflation in the country, adding that when salaries of political office holders was increased by 800 percent in 2008, it did not cause inflation.
"We don't know why the President has not transmitted an executive bill, the report of the tripartite committee to the National Assembly for an enactment into law, because workers' patience is running out.
"We have maintained that any governor that said he can't pay the N30,000 should go to his state, gather workers and tell them they are spending billions of dollars in the name of security votes but once it comes to payment of N30,000 minimum wage, they are saying workers are just 20 percent.
"How can they say that because without workers which include health workers, police, army and others, most politicians can't sleep. Minimum wage is not a favour but a right of a worker because the law states that after 30 days, a labourer is worthy of his wage," the labour leader said. 
Copyright Ships & Ports Ltd. Permission to use quotations from this article is granted subject to appropriate credit given to www.shipsandports.com.ng as the source.