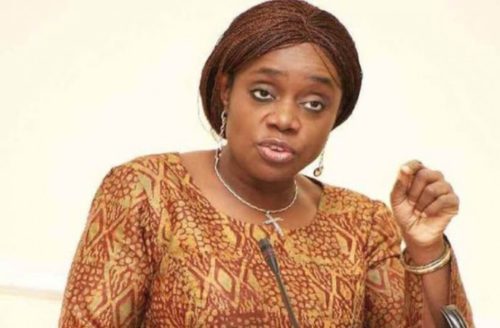 Minister of Finance, Kemi Adeosun, has said the revenue reporting template to be used by the Nigerian National Petroleum Corporation (NNPC) for remittances to the Federation Account Allocation Committee (FAAC) will be ready in September.
Adeosun made the disclosure on Thursday while briefing journalists on the outcome of the monthly FAAC meeting.
President Muhammadu Buhari had two months ago ordered a review of the revenue reporting template between the state oil company and FAAC as a lasting solution for the frequent disagreements between both parties over remittances.
Adeosun said Federal, States and Local governments shared N714.8 billion as revenue generated in July
The figure indicated a decline of N107.1 billion when compared to what was generated in June.
She said, "Crude oil exports sales volume was 3.74 million barrels showing an increase of 0.17 million barrels when compared with the previous month sales of 3.57 million barrels."
"Despite the improved revenue, production was negatively affected in the period by shut-ins and shut-down at various terminals for repairs and maintenance of ageing facilities.
"The value-added tax (VAT), import duty, companies income tax (CIT) and oil royalty decreased, while petroleum profit tax recorded an increase."
Giving a breakdown of the revenue generated, Adeosun said N376.14 billion was generated as mineral revenue, while N221.8 billion came from non-mineral resources.
To this end, the minister said the Federal Government received N269.8 billion; states, N136.85 billion and local government, N105.5 billion.
Oil-producing states received N44.96 billion as 13 per cent of the oil revenue generated in the month of July.
The minister said the equivalent of N25 million was transferred into the Excess Crude Account (ECA) leaving the balance at $2.31 billion.
Adeosun also gave an update on the review of the revenue reporting template between the NNPC and the FAAC as directed by President Muhammadu Buhari.
She announced that the reporting template would be ready before the next FAAC meeting in September.