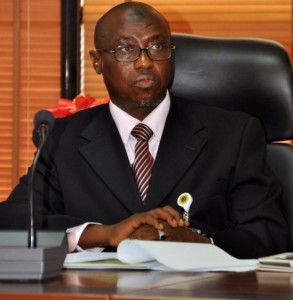 Group Managing Director of the Nigerian National Petroleum Corporation (NNPC), Maikanti Baru, says the oil firm does not "see a penny" from the sale of crude oil.
Baru said this in response to some critical reports, especially from the Nigeria Extractive Industries Transparency Initiative (NEITI).
NEITI in its March 2017 policy brief, said by its own calculations, the total unremitted revenues to government's treasury by NNPC and Nigerian Petroleum Development Company (NPDC) stood at about N7.2 trillion.
But Baru speaking in an interview with the quarterly magazine of the NNPC, accused NEITI of being naïve.
"Unfortunately, some of our sister agencies like NEITI go to the press quite easily to talk about massive unremitted funds and that NNPC owes government but if you look at the issues related to crude sales, NNPC does not see a penny from crude sales," he said.
"What it sells on behalf of the federation goes into an account controlled by the Central Bank of Nigeria (CBN) and of course into the federation account. We don't have a cheque book to sign off on that, we only have a viewing right, whereby whenever payments are done, we are informed so that as the entity in charge of sale of crude on behalf of government, for us to know that payment has been done before we implement necessary release of the cargo.
"So, NEITI is a bit naïve on those things."
Baru also accused the oil industry revenue watchdog of mixing up accounts, citing an instance to buttress his point.
"They (NEITI) also mix up accounts. For instance, the Nigerian Petroleum Development Company (NPDC) is a 100% owned entity of NNPC and as such the proceeds of its crude oil is for NPDC and NNPC not for the federation account but NEITI mixes up that to say that we are supposed to pay those crude and gas sales from the NPDC into the federation account," he said.
"So, they come up with mind boggling figures, claiming that NNPC is taking monies supposedly meant for the federation account."
Baru also spoke on the targets of the NNPC and the steps being made to realise them.
"We want to consolidate the gains we have made and in fact improve on what we have already done and the aggressive targets we set for ourselves," he said.
"We are looking at growing our reserves to 40 billion barrels. And also increasing our production from the current two million barrels per day to three million barrels per day by 2020. We also want to increase direct production from NPDC to ramp up to at least 500,000 bpd production by that time."