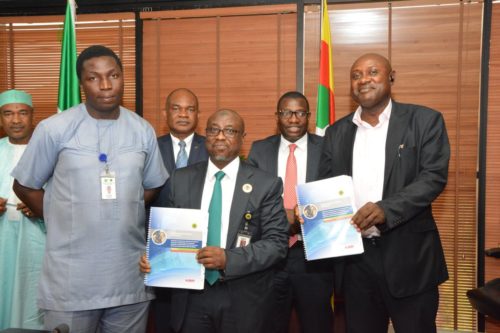 State oil company, Nigerian National Petroleum Corporation (NNPC) has said it will establish two condensate refineries with a total refining capacity of 200,000 barrels per day.
NNPC in a statement by its Spokesman, Ndu Ughamadu, in Abuja on Tuesday said that the refineries would be located at the Western Forcados Area and Assah North Ohaji South (ANOH) areas of Delta and Imo State respectively.
Ughamadu stated that NNPC Group Managing Director, Dr Maikanti Baru, disclosed this at the bid opening for the provision of consultancy services to carry out a feasibility study for the refineries.
Baru said that the establishment of the green refineries was part of the strategies to eliminate the importation of petroleum products and guarantee energy security for the country.
According to him, it will also increase gas supply to power plants in parts of the country.
Baru added that the condensate refineries which would operate along the NLNG model, would increase the nation's revenue base, provide jobs for the people and save for the country, a lot of foreign exchange.
He noted that the strategic initiative would increase the energy security for the nation and grow the NNPC refining capacity from 445,000 barrels per day to 645,000 barrels per day.
Baru said that the refineries, when fully operational, would increase gas supply to power plants in parts of the country.
He said, "The condensate refineries are going to be fully on commercial basis and we intend to get partners that would invest.
"We are willing to get partners and operate in a similar manner with NLNG model, where we could just get a majority share but not a controlling share."
He further stated that the model would allow the private sector to have the confidence to drive the plants and ensure that the bureaucracy of government business was removed.
"When the implementation of the Petroleum Industry Governance Bill (PIGB) becomes fully operational, the National Petroleum Company (NNPC) would be steady as it would be governed by the Companies and Allied Matters Act (CAMA)," Baru said.
The NNPC boss affirmed that the initiative was in line with the overall objective of the Federal Government to grow the economy to seven per cent of the Gross Domestic Product (GDP) by 2020, through the Economic Recovery and Growth Plan (ERGP).
He said the target of the NNPC was to ensure that sufficient power and fuels were available to drive the growth in the economy, adding that the bid opening was the first step to realising the condensate refineries ambition.
Natural gas condensate is a low-density mixture of hydrocarbon liquids present as gaseous components in the raw natural gas produced from natural gas fields.