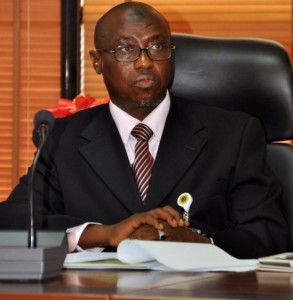 The Group Managing Director of the Nigerian National Petroleum Corporation (NNPC), Dr Maikanti Baru, says he was pursuing an "aggressive gas development programme'' to stimulate economic growth.
Baru said this in a statement by Ndu Ughamadu, NNPC Group General Manager Group Public Affairs Division, in Abuja on Wednesday.
According to him, the corporation was working in line with a Federal Government mandate to do so.
The NNPC GMD said the mandate was to ensure that gas infrastructure development was enhanced for gas supply, stressing that this was a critical focus areas in the Federal Government's 2016-2019 "Big Wins" for the Oil and Gas Industry.
"It is also in line with the NNPC's 12 Key Business Focus Areas to grow the industry.
"With the vast Oil and Gas experience entrenched in this Advisory Board and with the passion, I, as the Pioneer Chairman of the NGA Advisory Board for gas development; I hereby re-dedicate myself to the aggressive development of the Nigerian Gas Sector.
"I commit myself and all members of the NGA Advisory Board to do everything possible to achieve the objectives of the Board which align perfectly with NNPC's key business focus area,'' Baru pledged.
Marketing the industry, he noted that opportunities at the upstream gas development included the acquisition and operatorship of oil blocks, drilling, rig leasing, and provision of engineering services, heavy equipment leasing, seismic acquisition and processing.
Speaking on opportunities in the midstream of the gas value chain, Baru listed the following as areas that should interest investors: Investment in gas processing facilities, mini Liquefied Natural Gas (LNG).
"Others are floating LNG, Gas storage facilities, EPC of over 2000km gas pipelines, EPC of gas processing facilities, EPC of gas metering and monitoring system and Fabrication of pipes.
"In the downstream, opportunities for investment in LPG bottling and marketing, Investment in gas based industries (Fertilizer, Methanol, Petrochemicals, CNG stations and conversion workshop), EPC of fertilizer and petrochemical plants, manufacturing of LPG cylinders/accessories.
"The Nigerian Gas sector remains the largest and most vibrant in Sub-Saharan Africa with lots of potentials, especially in the deep water and untapped gas resources,'' he said.
Baru said that the gas reform was anchored on a robust strategic framework that is focused on maximum economic impact through gas,
He also said it was aimed to drive linkages with agriculture, manufacturing and dispersed small enterprise through Power.