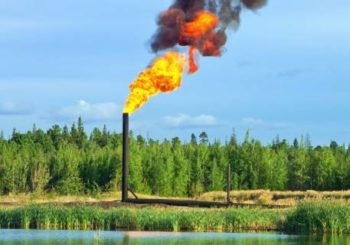 The Nigerian National Petroleum Corporation (NNPC) on Sunday said it had succeeded in reducing gas flaring in by 26 percentage points in the last 10 years from 36 to 10.
It said this had improved Nigeria ranking as the second highest gas flaring nation in 2006 to the seventh position in 2016.
The corporation also announced that the Federal Government had mapped out measures to end gas flaring by 2020.
The Chief Operating Officer, Upstream, NNPC, Bello Rabiu, said the country was flaring 2.5 billion standard cubic feet of gas as of 2006, while consuming only 300mscf per day, but stressed that technology had helped the industry to improve the situation.
He said the drastic reduction in gas flaring was achieved through aggressive gas commercialisation anchored on the Gas Master Plan.
According to a statement issued by the corporation's spokesperson, Ndu Ughamadu, the COO was quoted as saying, "The Gas Master Plan was geared towards addressing four key critical issues of gas availability, infrastructure, commercialisation framework and gas affordability."
Rabiu explained that though the implementation of the plan was driven by the NNPC, it was sponsored by all the oil and gas companies operating in the country, and that it had helped in addressing some of the issues confronting the sector.
He said, to ensure affordability, the plan stipulated a lower price for gas being supplied to the power sector, described as the most important segment; while the industrial and manufacturing sectors should get the product at a commercial rate.
This measure, according to Rabiu, is to ensure that gas producers get value for what they produce for sale.
On other actions being taken to stop gas flaring in the country, he said the Federal Government had designed a National Gas Policy seeking, among other things, to end flaring by 2020.