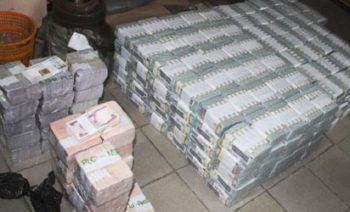 The Economic and Financial Crimes Commission (EFCC) on Friday told the Federal High Court in Lagos that no one has come forward to claim the about N15 billion cash found in Flat 7B, Osborne Towers, 16, Osborne Road, Ikoyi, Lagos.
It, therefore, prayed Justice Muslim Hassan to make an order of final forfeiture of the money to the Federal Government.
The judge, while ordering a temporary forfeiture of the money on April 13, directed EFCC to advertise the order in a newspaper so that anybody who owns the money can claim it within 14 days.
EFCC's lawyer, Rotimi Oyedepo, said no one showed up in court to show cause why the money should not be permanently forfeited.
The National Intelligence Agency (NIA) had reportedly claimed ownership of the money, following which the federal government launched a probe and suspended NIA Director-General, Ayodele Oke.
EFCC, in an affidavit in support of the application for final forfeiture of the sums, deposed to by a Detective Inspector, Mohammed Chiroma, said Oke's wife, Folasade, allegedly owns the apartment in which the monies were found.
The Commission said Oke's wife bought the flat from Fine and Country Limited for $1.658million between August 25 and September 3, 2015 in the name of Chobe Ventures Limited.
According to EFCC, Oke and her son, Master Ayodele Oke Junior, were the directors of Chobe Ventures.
EFCC, which tendered the receipt of payment, said Oke paid for the apartment in cash in tranches without going through a financial institution.
This, Oyedepo said, violates the Money Laundering Act.
She allegedly paid $700,000, $650,000 and $353,700 to a Bureau de Change (BDC) company, which converted the sums into N360,000,000 with which she bought the property from Fine and Country.
"The circumstances leading to the discovery of the huge sums stockpiled in Flat 7B, Osborne Towers, leaves no one in doubt that the act was pursuant to an unlawful activity.