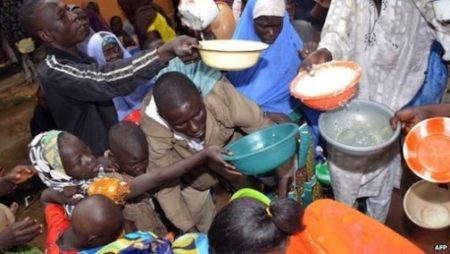 By Ace Omozuwa
The prevalence of food poverty in Nigeria is tempting me to assume that the brilliant author of The Shadow of the Wind, Carlos Ruiz Zafon, made a mistake when he said, "Paris is the only city in the world where starving to death is still considered an art." I understand the context in which he made the statement, yet, a slight modifier would make it to acquire the verity of a creed: "Paris is the only city in the world where willful starving to death is still considered an art." This modifier is needful, because, in many cities in Nigeria, unintentional starving to death is an art.
Nothing demonstrates the facts that many Nigerians are ensnared in webs of miseries, incapable of meeting basic survival needs, and their aspirations for greatness are thwarted by existential ordeals and bureaucratic impassiveness, like an online news report that went viral last year: "Hunger in the land: Children pictured eating from dustbin in Nigeria".
A former Minister of Transport, Alhaji Umaru Dikko, was arguably the most powerful minister in Shagari's cabinet. He is mostly remembered for two things. First, during the military era, he "was found in London sedated and loaded in a crate destined for a Nigerian Airways flight to Lagos." Second, as the chairman of the committee in charge of rice distribution, his honor was shattered when he allegedly dismissed media reports of widespread hunger by saying Nigerians "had not reached the point of eating from dustbins". His image makers say that the press misquoted him. According to them, this is what Alhaji Dikko actually said: "As long as we are in government, we will leave no stone unturned to ensure that there is sufficient food in Nigeria and nobody will eat from dustbin."
Many mothers in Nigeria are at the throes of depression. This is because their children are helpless victims of the dehumanizing scourges of malnutrition. Many children cannot grow and learn life-supporting, income-generating skills. This is because the pangs of hunger keep them awake at night, and are too weak to go to school during the day. Many fathers are vitiating in pools of anguish because they cannot provide for their families, and they cannot endure the indignity of watching their girls begging, hawking, etc. Show me a father with a shattered sense of dignity, and I will show you a father that cannot feed and protect his family. This may help to explain why some fathers "vanish" from their homes. To be candid, nothing weakens the moral foundation of great nations like when families are traumatized by austere economic conditions, particularly, when there are no social safety nets to assuage their plights.
Poverty and hunger are almost always coexistent. Hence, it is not an existential irony that hunger is widespread in the poverty capital of the world. In Nigeria, poverty and hunger are no respecters of political affiliation, religious creed, tribal roots or geographical location. There are many poor, dirty, food-destitute people in Minna, Ota, Otuoke, Daura as there are in other parts of Nigeria. Poverty does not automatically disappear from a place because the legitimate occupant of Aso Rock hails from there.
When many citizens are suffering from austere deprivation of food, democracy cannot flourish. The legitimacy of some recently held elections were almost compromised by massive vote buying. Like Esau, most voters do not have qualms mortgaging their future wellbeing in order to have access to food for a day or two.  Anybody that understands how food poverty precipitates political apathy would readily agree with Albert Einstein; "An empty stomach is not a good political adviser." Deprivation of food like deprivation of information is not good for democracy.
The prevalence of hunger in Nigeria cannot be divorced from bad governance. Every agent of good governance understands that the essence of power is to empower the vulnerable in society to experience freedom from fear and want. Without these fundamental freedoms, man's quest from meaning is in jeopardy. Without these fundamental freedoms, it is near impossible for a society to equilibrate. It is a well-known fact that sustainable and inclusive economic progress is predicated on social equilibrium. People exploit victims of hunger. There cannot be social justice where hunger is pervasive. I assume this is what George Orwell had in mind when he noted, "It is fatal to look hungry. It makes people want to kick you."
The moral climate of a society is bound to be poor and hazy when hunger is rife. A man cannot cling to high ideals when the forces of life have conspired to deprive him of food. It is difficult for parents to rightly transmit timeless values to their children when they cannot feed them. There is a certain poverty of the mind that springs from austere material poverty. Empty stomach could lead to a state of empty minds and moral bankruptcy. This does not imply that poverty robs a man of his moral honor and scruples or that the poor and hungry cannot nurture nobility of character. The point is in battlefield of life when values clash with basic survival needs, that is, if adherence to ethics means failure to meet survival needs, ethics is almost always the loser.
The above implies that to fight corruption effectively, government must declare war on hunger. There would be no incentive for people to corruptly enrich themselves if there are social mechanisms that ensure they and their loved ones are insulated from the ravages of poverty. But a worker, businessman, politician or clergyman cannot effortlessly resist the fruits of corruption when he and his family are wallowing in dehumanizing poverty.
According to the Action Against Hunger, "Since 2012, Northeastern Nigeria has faced insecurity due to conflict with the Boko Haram insurgent group, which has caused a deepening humanitarian crisis and devastated civilians. 7.7 million people need assistance and 1.6 million are internally displaced. Many face hunger, and an estimated three million could suffer critical food insecurity during the next lean season. Children under five in Nigeria experience high malnutrition rates: 43.6% are stunted, 10.8% are wasted."
Action Against Hunger states that; "Northern Nigeria suffers the world's third highest level of chronic undernutrition among children. This silent crisis is caused by lack of access to safe water and sanitation, rising food insecurity, the disruption of basic services due to conflict, and poor knowledge of healthy feeding practices for infants and young children."
There are many fact-supported reasons why the above grim picture is true. One of them is because the existing social structure and statecraft are not sufficiently pro-people. They are oriented towards the wellbeing of the political, religious and financial elite. There are no viable and sustainable social welfare schemes for those at the lowest rung of the economic ladder. On the eve of elections, the political class in order to curry the favor of the uncritical masses, dole out tokenistic palliatives.  However, there is no systemic support for the underclass. There are no functional institutionalized mechanisms devoted to helping undernourished children, providing indigent communities with access to clean water and lasting solutions to hunger.If there are, their impact is not felt because of lack of political will, paucity of funds, and the proclivities to enrich the rich while pauperizing the poor. It seems wise to sound a note of warning: Insecurity and other drivers of social anomie will abound in any society where only those at the upper crust are untouchable by hunger. There cannot be peace in a society where many children sleep without food.  There cannot be progress in any society where hunger drives underage girls to become sex traders.
Widespread hunger is inimical to economic and democratic progress. Therefore, government must prioritize its crusade against poverty. Poverty alleviation schemes should be devoid of political inclinations. It is morally abhorrent to exploit and politicize the predicaments of the vulnerable. Political apologists are inclined to otherize anyone who speaks against the prevalence of poverty. This is not peculiar to Nigeria. For, the late Brazilian Roman Catholic Archbishop and advocate of liberation theology, Dom HelderCamara, experientially knew this. Hence, he once noted that; "When I give food to the poor, they call me a saint. When I ask why the poor have no food, they call me a communist." But we must ask questions. If we don't, answers will elude us.
It takes more than political rhetoric to fight the good fight of democracy geared at ensuring food poverty is a thing of the past. Any genuine fight against hunger must be seen as a struggle for democratic consolidation, national unity, and human flourishing. Hence, it is good that some political actors have made extenuating the ravages of food insecurity a cardinal issue in their campaigns. They should not stop there. They should develop realistic action plans, and show how they will ensure no Nigerian is subjected to the deadly assaults of hunger.
If leadership is truly the science and art of improving the lives of people, fighting poverty must become the centerpiece of every leader's policy in Nigeria. Leaders should know that they are solidifying the strength, unity and oneness of our beloved nation Nigeria, when they do their utmost to ensure no child sleeps without food, no father is buried in shame, because, he cannot protect and provide for his family. Let us assume this is what UmaruDikko actually said and make it our motto: "As long as we are in government, we will leave no stone unturned to ensure that there is sufficient food in Nigeria and nobody will eat from dustbin."
Copyright Ships & Ports Ltd. Permission to use quotations from this article is granted subject to appropriate credit given to www.shipsandports.com.ng as the source.