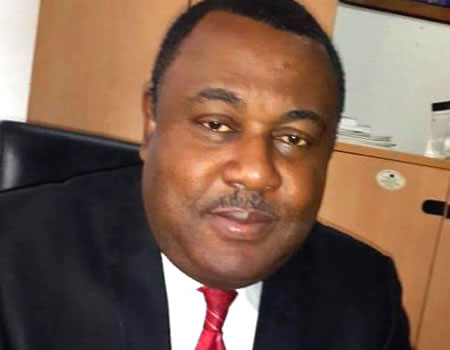 It appears the Association of Nigerian Licensed Customs Agents (ANLCA) is heading for a major crisis as its officers in the Western Zone on Monday sacked Tony Iju Nwabunike as National President, appointing Emenike Nwokeoji in his place. 
Nwabunike, who was inaugurated ANLCA President on April 14, 2018, was elected in March after defeating Nwokeoji by a narrow margin of three votes. The association has, however, been embroiled in crisis since then.
The crisis got a head on Monday as the chapter chairmen of the association in Lagos and the entire Western Zone passed a resolution sacking Nwabunike and appointing Nwokeoji as the new President.
A press statement titled "Western Zone of Association of Nigeria Licensed Customs Agents (ANLCA) Recognises Mr. Emenike Nwokeoji as the President of ANLCA", signed by all the chairmen and made available to SHIPS & PORTS DAILY on Monday reads: "Sequel to the deliberate and persistent refusal by Mr. Tony Iju Nwabunike and some NECOM members of the Association of Nigeria Licensed Customs Agents (ANLCA) to give peace a chance in the Board of Trustees as ably led by Alhaji Taiwo Mustapha, we the members of the Association of Nigeria Licensed Customs Agents in the Western Zone hereby resolve as follows: 
"We would like to state categorically clear that membership of this great association in the Western Zone is not in any way constituted based on any tribal sentiment. Irrespective of our cultural and religious backgrounds, we remain committed to one indivisible united family with our brothers and sisters in the Eastern Zone.
"In view of the recent media declaration by Mr Tony Iju Nwabunike on the Board of Trustees issue, we hereby resolve and declare that we shall no longer recognize him as the President of ANLCA until the final determination of the case led against him challenging his purported victory in the last NECOM election. 
"Mr Tony Iju Nwabunike's refusal to recognize the outcome of the election that produced Alhaji Taiwo Mustapha is tantamount to standing truth on its head. 
"It is on record that Tony Iju Nwabunike became president after defeating Emenike Nwokeoji with only 3 votes, which resulted in the so called manipulated victory. In the same vein, Alh Taiwo Mustapha defeated Henry Njoku with 3 votes in the Board of Trustees election.
On this note, we hereby recognize Mr. Emenike Nwokeoji as the President of ANLCA.
"We hereby enjoin all members of the Western Zone to refrain from participating in any ANLCA activities called by Tony Iju Nwabunike-led NECOM.
"We shall resist any attempt to intimidate, harass, or coerce any member in the Western Zone of ANLCA in furtherance of this directive. 
The press statement was jointly signed by the Coordinator, West Zone, John Ofobike and Secretary, Bayo Oyekangun, and the Chairmen of Apapa Chapter, Olumide Fakanlu; Tin Can Chapter, Segun Oduntan; PTML Chapter, Obey Samuel; KLT Chapter, Goddy Sewa Soleji; Seme Chapter, Lasisi Fanu; Idiroko Chapter, Shina Ibrahim; Murtala Muhammed Airport Chapter, Alloy Igwe; Ikorodu Chapter, Lawal Jimoh; and Tin Can 2 Chapter, Ijora, Femi Olabanji.   
However, when contacted, Vice President of ANLCA, Kayode Farinto, described the move by the association's Western Zone as "a joke taken too far".
He said, "This is a joke of the century. How can some group of miscreants who call themselves chapter chairmen whose tenure will end by January 4, 2019 say they want to sack a sitting President? We have our National Executive Council (NEC) meeting in Abuja on Monday. When we get to NEC, we will address it but they should go and read their constitution very well."