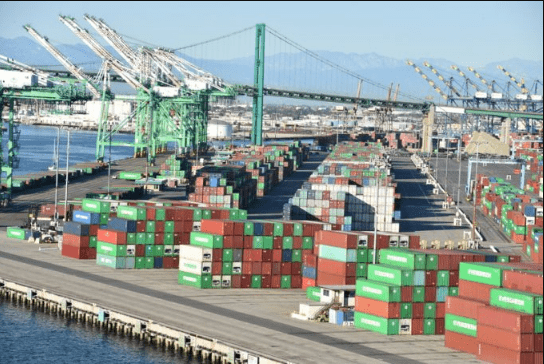 Import volumes into North America were up 20% year-on-year in October, according to Container Trade Statistics (CTS).
The latest figures from CTS highlight the huge disparity in growth of container volumes on different trades and gulf between imports and exports on some sectors, which are exacerbating container repositioning issues and availability at key export ports in China.
Overall global container volumes were 15.21 million TEU in October 2020, up 3.75% on 14.66 million TEU in the previous month, and 3.78% growth compared to 14.54 million TEU in October 2019. However, regional breakdowns of the figures show major disparities in growth by region.
North America saw imports surge 20% year-on-year to 2.86 million TEU in October 2020, compared to 2.38 million TEU in the October 2019. By contrast exports from North America actually fell to 1.2 million TEU in October 2020, compared to 1.35 million TEU in October 2019, with the ratio of export boxes to import boxes just 0.41 in October 2020.
By comparison container import volumes into Europe in October 2020 grew just 3% year-on-year to 2.79 million TEU compared to 2.7 million TEU a year earlier. A 9% month-on-month surge in exports to 2.75 million TEU in October 2020 compared to 2.52 million TEU saw import and export volumes almost in balance for the Europe region as a whole.
Meanwhile Asia exports jumped 7.5% in October 2020 to 8.82 million TEU, compared to 8.19 million TEU in the same month in 2019. Imports into Asia in October 2020 were 5.95 million TEU.
Central and South America region saw imports rise 7.62% month-on-month to 985,291 TEU in October compared to 915,524 TEU in September.