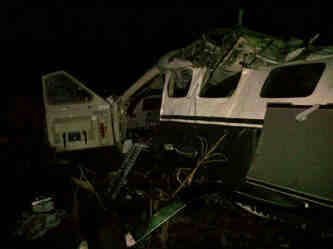 The Accident Investigation Bureau (AIB) is set to take the engine of the crashed private jet of a former Governor of Taraba State, Dambaba Suntai, who died in the United States last week, to its manufacturers in North America.
The move came almost five years after the aircraft crashed in Yola, Adamawa State.
The Commissioner/Chief Executive Officer, AIB,  Akin Olateru, told journalists at the agency's headquarters at the Murtala Muhammed International Airport, Lagos, on Thursday that the paucity of funds had delayed the shipment of the aircraft's engine abroad for analysis since the crash occurred on October 25, 2012.
He explained that the tear down of the engine in a North American aviation laboratory was necessary in order to determine the reason the plane went down in Yola.
Olateru explained that the shipment of the engine for tear down was one of the processes of accident investigation, which the agency would carry out.
He said, "We are about to take the aircraft engine that involved the former and late Governor of Taraba State, Dambaba Suntai, in 2012 abroad. We are planning to send the aircraft engine back to the manufacturers for what we call engine tear down.
"It is one of the processes of accident investigation. Just to ship an engine abroad is a challenge. Investigation is still on because there is no money to ensure we check the engine that it was in the right situation before the crash."
Suntai and five of his aides were involved in the crash of the Cessna 208 marked 5N-BMJ aircraft in the Adamawa State capital.
Suntai, who did not recover fully from the crash, died in the US on June 28, 2017, according to reports.
The late governor was said to be piloting the small aircraft at the time of the accident. The plane allegedly hit the ground behind the Nigerian National Petroleum Corporation depot, along Yola-Numan Road at about 7pm.
Suntai, who got his Private Pilot Licence at the Nigerian College of Aviation Technology, Zaria, was certified for visual flight, which is from 6am to 6pm, but reportedly flew the aircraft at 7pm when it crashed.
He was immediately conveyed to a hospital in Yola and before his death last week, Suntai had been taken to various hospitals overseas for better medical attention.