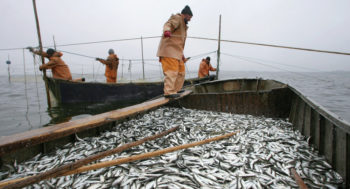 The Norwegian Ambassador to Nigeria, Kjemprud Jens-Petter, on Monday in Lagos, disclosed that his country exports fishery products worth $125m (N45bn) to Nigeria annually.
He said that the fishery export from Norway included stockfish, mackerel and salmon.
"Annually, Norwegian fish exports to Nigeria stand at $125m and these include stockfish, pelagic fish, mainly mackerel and salmon.
"We are interested in expanding our market access and consider the upper market salmon to have further potential.
"Ideally we believe it would be possible to double our exports considering the huge Nigerian market and the current recovery of the Nigerian economy,'' he said.
Jens-Petter said that the Nigerian-Norwegian Chamber of Commerce was working with his embassy to attract Norwegian investment and cooperation for the development of Nigeria's fishery industry.
He said that his home government, through its organisation, Innovation Norway, was prepared to support and share technical expertise with Nigerian fishing companies in boosting local fish production.
The Norwegian envoy said that his government was also interested in the development and exportation of Nigerian seafood to Norway.
Jens-Petter said that NNCC and Norwegian fish exporters and aquaculture companies have exchanged visits on how Nigeria could also achieve bumper fish production locally.