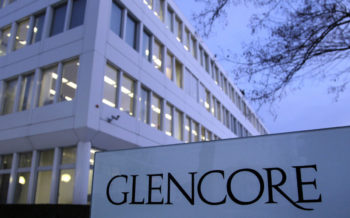 Chad is on a collision course with top creditor Glencore as it wants to divert oil from the Swiss trading house to U.S. energy company ExxonMobil from the new year amid a dispute over debt restructuring.
A government document showed that Chad wants to hand over crude oil marketing rights currently held by Glencore under a $1.4 billion loan agreement to Exxon, the biggest oil producer in the Central African country.
Three government and industry sources confirmed the details.
Sources close to Glencore say they believe the contract does not allow such a change.
Under pressure from the International Monetary Fund, Chad is renegotiating its hefty external commercial debt, namely to Glencore, which eats up nearly all of its oil profits – the country's main source of revenue.
The near $1.4 billion debt to Glencore is being restructured for a second time since the 2014 oil price crash, in a move expected to be completed by the year-end or early next year.
Weighed down by drought, a refugee crisis and militant group Boko Haram, the government has become frustrated with Glencore and its handling of the debt restructuring, sources in the administration say.
Since 2014, Exxon has been paying royalties to the government in physical crude cargoes that were subsequently allocated by state firm SHT to Glencore.
But this process will end in early January as the government has asked Exxon to pay royalties in cash instead, according to a letter from the company dating from mid-October.
"In this context, we wish to levy in cash, and not in kind, the royalties due by the Consortium on January 2, 2018," the letter stated.
The change will see Exxon replace Glencore as the marketer of the royalty oil.
Spokesmen for ExxonMobil and Glencore declined to comment. Chad's finance ministry did not respond immediately to requests for comment.
Exxon operates the Doba consortium, the biggest producing group in the country at around 63,000 barrels per day (bpd) out of Chad's 131,000 bpd in 2017, government data showed.
Cash-strapped Chad has received loans from the IMF, World Bank and African Development Bank among other entities, with another $12.9 billion of pledged funding as of September from public and private donors for its 2017-2021 national development plan.
A sticking point, a banking source said, was a request from Chad for another grace period on principal repayment that Glencore had so far refused.
Chad previously had a grace period in 2016, after Brent oil futures hit their lowest level since the end of 2003.
"Glencore does not want to hear about a restructuring," a government source said. "This is why we have decided to take the marketing of our oil away from them."
A source close to Glencore said the development would represent a "clear and serious breach of the agreement".
"Glencore is in the middle of negotiations and is optimistic about a restructuring," the source said.
Agency Report