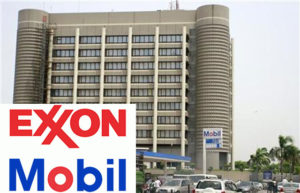 Some angry youths from Ibeno Local Government Area of Akwa Ibom on Wednesday disrupted operations in ExxonMobil over the sacking of some contract staff who are natives of the area.
The protesters, numbering over 1,000, barricaded all entry points to the company with boats, coffins, palm fronts and placards with different inscriptions.
Their placards had inscriptions like "ExxonMobil, pay us our terminal benefits"; "ExxonMobil, this is the last warning," "ExxonMobil should re-instate sacked contract staff from Ibeno" and "Gross negligence and insensitivity of ExxonMobil to the people of Ibeno".
Another read, "We don't have pipe-borne water and electricity. Our economy is crippled because of incessant oil spill."
The angry workers, under the aegis of Amalgamation of Ibeno Youth Presidents' Forum, Ulok Ulok people Assembly and Ijaw Youth Council, Ibeno, decried alleged marginalisation of the host communities by the company.
A correspondent who visited ExxonMobil at Qua Iboe Terminal, Ibeno, reports that the company was under lock and key with clusters of people lingering around discussing the issue.
Security operatives were seen protecting the facilities of the company.
The National President of Ulok Ulok People Assembly, Harry Moses, said that ExxonMobil had failed in its Social Corporate Responsibility to the host communities.
Moses said that the sacked 48 contract staff should be reinstated or else the protest would be continue.
Also,  coordinator of the groups, Samuel Otokere, said the protest was peaceful, and in reaction to the injustice of ExxonMobil to the host communities.
"The reason for the protest is the recent retrenchment by ExxonMobil of indigenes of Ibeno Local Government Area of the state.
"You will be surprised to know that ExxonMobil has about 1,800 contract staff and about 48 contract staff had been sacked from Ibeno without reasons,'' he said.
Otokere said that several meetings had been held but Mobil refused to attend the meetings.
He said that the MOU signed by the host communities, ExxonMobil and the state government had not been implemented for 25 years, and that the community needed a new MoU with the company.
He said, "We are protesting so that the world can see that we are not fairly treated as the landlord and host community."
Efforts to reach the Manager, Media and Communication of ExxonMobil,  Ogechukwu Udeagha, proved abortive as calls to his phone, as well as text messages, were not attended to.