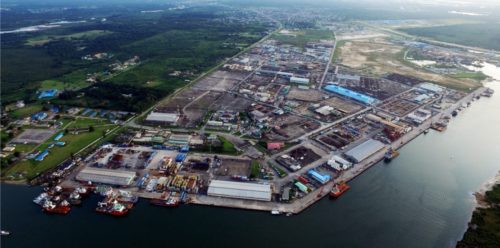 The Nigerian Ports Authority (NPA) says the Onne Port in Rivers State has been repositioned for better service delivery as the biggest oil and gas logistics hub in West Africa.
Onne Ports Manager, Alhassan Abubakar, in an event to mark its end of year activities, said the seaport currently has 12 deep berths of 12metres each and plans are underway to increase the berths to 19.
Abubakar stated that Onne ports have the biggest cranes in Africa, with the capacity of lifting over 230 tons of cargo as well as a dedicated container terminal.
He further stated that the improvement recorded in Onne ports was in line with the Federal Government's Economic Recovery and Growth Plan, ERGP, of creating a global competitive economy.
According to him, "The introduction of ease of doing business by the Federal Government has added impetus to our desire to improve ports operations. As a result, critical infrastructure like lighting in the port had all been reactivated in Onne ports.
"Since 2018, we have had a lot of progress, but whatever we are doing in the port, we don't fail to align with the Federal Government's economic recovery growth plan, to restore growth of the economy and to invest in people and grow a global competitive economy by 2020 through key priority sectors like the oil and gas.
"We have state-of-the-art facilities in Onne ports, we have deep berths of up to 12 metres. We have 12 berths in Onne and there is a port expansion project to increase the berths from 12 to 19, but that project was stalled because of the economic recession, but anytime soon, we will spring it up again.
The Onne port boss also commended the administrative style of the Managing Director of NPA, Hadiza Bala Usman, saying that since her assumption of office, has given a lot of attention to improving ports operations in the country as well as human capital development.
He added that NPA has provided patrol vehicles to aid port operations including an ambulance for health emergencies.
"We have procured a new generator to improve our electricity situation in the ports. The Managing Director has commissioned an injection station to provide the Federal Ocean Terminal with a national grid which was not there before now.
"The port has one of the biggest cranes in Africa, capable of lifting over 230 tons of cargo, we also have a dedicated container terminal built from scratch, under the build, operate and transfer.
"Onne port is the biggest oil and gas logistics base in West Africa. Since 2018, we have received about six Hilux vans to improve port operations and security. We have also received a brand new state-of-the-art ambulance to improve on the health situation in the port," Abubakar said.
Copyright Ships & Ports Ltd. Permission to use quotations from this article is granted subject to appropriate credit given to www.shipsandports.com.ng as the source.