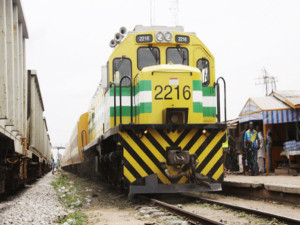 In a major move that may address the perennial congestion and gridlock in the Apapa Area of Lagos State, the Nigeria Railway Corporation (NRC) is to flag off 24-hour movement of containers from the nation's busiest port in Apapa Lagos to Ebute Metta from where trucks would evacuate the containers and move to various parts of Lagos and the country.
The new service is the NRC's strategy to ease the traffic snarls which have become an albatross on Apapa road and its environs.
Last week, the Apapa traffic extended to Ikorodu along Onipanu/Fadeyi with articulated vehicles and tankers blocking the road and virtually halting vehicular movement on the ever busy Ikorodu road prompting the state government to ban heavy duty vehicles within the state temporarily.
However, Director of Operations of NRC, Niyi Ali, said the new service which would commence next week would have the capacity to move 20 wagons of 20ft containers in a trip.
Addressing newsmen at the NRC headquarters in Lagos, Ali also cleared the air on the state of the N1.2bn worth of  tank wagons procured by the corporation five years ago for the movement of petroleum products, saying the tank wagons with the capacity to move 900,000 liters of petroleum product in a trip, are not rotting away contrary to reports in the media.
Already the corporation has commenced the construction of another rail line within the NRC yard while two lines would be dedicated for the service from Apapa to Ebute Metta which is about eight kilometers.
The proposed operation is different from the existing freight movement of cargos, fertilizer and other items from Lagos to all parts of the state.
According to Ali, the service is in response to the suffering and hardship faced by Nigerian businesses in an attempt to evacuate their containers out of the port.