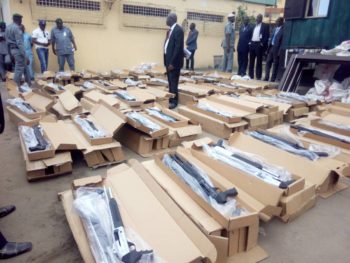 Oscar Okafor and Donatus Achinulo, two of the five persons arrested for unlawful importation of firearms, on Monday informed the Federal High Court in Ikoyi, Lagos of their intention to change plea from "not guilty" to "guilty."
The accused, through their new lawyers, made the call before Justice Ayokunle Faji. The application was made orally by Rotimi Jacobs (SAN), representing Okafor and Paul Ananaba (SAN), representing Achinulo.
The judge however directed the defendants to notify the Attorney General of the Federation of their intention to have their plea changed. He then adjourned the matter to Tuesday, September 26 for the continuation of trial.
The defendants were arraigned on June 14 by the AGF on an eight-count charge along with one Mahmoud Hassan, Salihu Danjuma and Matthew Okoye who is said to be at large.
On arraignment, they all pleaded not guilty to the all the allegations including unlawful important of 661 pump-action rifles into Nigeria. Justice Faji denied them bail on the ground that the gravity of the charges leveled against them are enormous.
In the charges, the AGF said the defendants imported 661 pump-action rifles from Turkey through the Apapa Port in Lagos, using a 40-feet container, which they falsely claimed contained steel doors. To facilitate the illegal importation, the accused allegedly forged a number of documents including a bill of lading, a Form M and a Pre-Arrival Assessment Report.
According to the prosecution team led by Nebo Cole, in order to evade payment of Customs duty, the accused allegedly forged a bill of lading issued at Istanbul on January 9, 2017, falsely claiming that it was issued at Shanghai, China. In the forged Bill of Lading, they allegedly filled "steel door" as the content of the container instead of rifles.
They were also said to have allegedly offered a bribe of N400,000 to an official of the Nigeria Customs Service attached to the Federal Operative Unit to influence the said officer not to conduct a "hundred percent search on the 40-feet container with number PONU 825914/3."
The prosecution also alleged that the first accused, Hassan, corrupted government officials when he gave N1m to Customs officers at the Apapa Port in order to prevent the search of the container by them.
In the last count, the Federal Government alleged that the defendants had between 2012 and 2016 illegally imported several double-barreled shotguns, pump-action rifles and single-barreled shotguns into the country through Lagos.
The eight counts charges filed against them border on conspiracy, importation of prohibited firearms, forgery, uttering of forged documents and bribery.
The offences were said to be contrary to sections 1(2)(c), 1(14) (a)(i) and 3(6) of the Miscellaneous Offences Act Cap M17, Laws of the Federation of Nigeria, 2014.‎