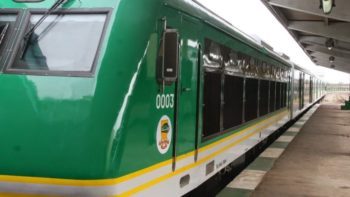 The Nigeria Railway Corporation (NRC) has denied that robbers on Tuesday attacked the Abuja-Kaduna train, saying some miscreants hauled stones at the train.
The Deputy Director, Public Relations of NRC, Yakub Mahmood, said there was no gunmen attack on the train, "but an act of stoning by miscreants''.
He said: "There was an incidence of miscreants along Abuja-Kaduna railway corridor who engaged in an unwholesome act of stoning our passengers' trains, as against the unsubstantiated and purported media report of attack by gunmen.
"That does not constitute security threat to the operation of the train service. It is a deliberate attempt by unpatriotic individuals to damage Federal Government's asset and property.
"These properties are provided to alleviate the transportation problems of Nigerians, besides being a source of employment to the people residing in the environment."
Mahmood assured passengers on Abuja-Kaduna train services that their security and safety would not be compromised.
He appealed to the youths, parents, guardians and especially the traditional rulers along Abuja-Kaduna railway corridor to assist in enlightening their subjects to desist from stoning moving trains.
The Minister of Transportation, Rotimi Amaechi, has denied the reports that robbers attack the train on Tuesday at Rigasa.
He told journalist in Abuja on Friday that there were security personnel on board and it was impossible to rob the train.
"I saw one fake news story that robbers attack the Abuja-Kaduna rail line. This is not correct. Nigerians on their own fabricates stories," Amaechi said.