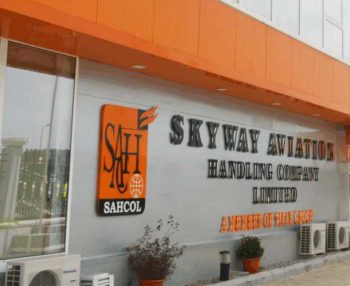 The National Union of Air Transport Employees (NUATE) has given Skyway Aviation Handling Company Limited (SAHCOL) a seven-day ultimatum to review the Conditions of Service of its workers and that failure to do so would lead to grounding of the company's operation.
NUATE's ultimatum to SAHCOL is contained in a letter dated August 15, 2017 addressed to the Managing Director of SAHCOL and signed by its General Secretary, Olayinka Abioye 
Abioye accused the ground handling company of "flagrant avoidance of the union" since 2014 to negotiate the condition of service of its members.
NUATE in the letter said that efforts to bring the management to the negotiating table had failed over the years, threatening that if the issue was not addressed within seven days, beginning from Wednesday, the union would not hesitate to ground the operation of the company.
The union also alleged that the inability of SAHCOL's management to review upward the conditions of service of its members had led to daily mental anguish by the workers, adding that none of the several promises to the workers by the company had been fulfilled in the past three years.
"Having waited patiently and painfully for the review of the company's expired and out-dated conditions of service, and bearing in mind that the persistent delay of management is in bad faith, notice is hereby given that the reviewed conditions of service must be ratified for implementation within seven days. If within the stipulated period, the issue was not resolved, we may not be able to stop our members from exercising their rights to withdrawing their services, at the expiration of this seven. Those who have ears, let them hear, but it would be said that as a responsive and responsible union, we have tried to engage your management, but rebuffed tactically," the letter reads in part.
The relationship between the unions and SAHCOL has not been cordial over the years.
Recalled that about a year ago, some union leaders in the company were sacked and their names published in some newspapers for their involvement in union activities, a situation that took the intervention of the Ministry of Labour and Productivity for the union leaders to be recalled and re-instated back to their various positions.
Also, in September 2016, NUATE had issued the management of SAHCOL a 14-day ultimatum over its refusal to review of condition of service of its members working in the organisation.