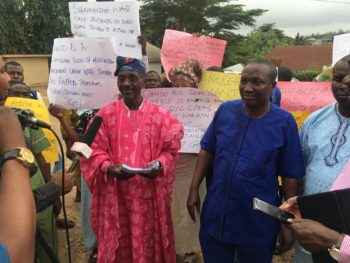 Following the directive given to the Securities and Exchange Commission (SEC) by the House Committee on Capital Market and Institutions to investigate allegations of financial impropriety and mismanagement of Oando Plc, shareholders of the company across Nigeria have warned the regulatory agency against cover and actions that will be inimical to them.
The shareholders, who stated this in a chat with newsmen in Lagos, stressed that they will use every legal means possible to protect their investment in the event that SEC decides to give the management of Oando a soft landing.
The shareholders alleged that some of their colleagues were being used to circumvent the regulatory functions of SEC. 
Speaking on behalf of his colleagues, National Coordinator of Trusted Shareholders Association, Alhaji Muhktar Muhktar, said the duty of regulators in any capital market is to protect the interest of shareholders and not the management of corporations who "deliberately toy with shareholders' investment for their selfish gains".
He warned that shareholders from the northern part of the country will picket SEC if urgent steps are not taken to address their plight.
According to him, "We have it on god authority that some people who parade themselves as shareholders are trying to influence the decision of the SEC as regards our petition to the National Assembly on the mismanagement of our company Oando Plc.
"We will not take it. The annual report is there for everybody to see. We have observed for three good years now that the financial operation of Oando Plc is of worrisome critical matters that affect our investment. No dividend was paid since 2013 financial year."
On his part, President of Renaissance Shareholders Association, Ambassador Olufemi Timothy alleged that the management of Oando is currently selling critical assets of the company.
He therefore called on SEC to do what is needful to restore investors' confidence in the capital market.
"Management had been selling assets of the company, especially money-spinning assets such as downstream (marketing) businesses without meaningful improvement in debts situation. It is planning to sell its share in OER which unfortunately is the last asset belonging to the company. We note that all these actions were not enough to fully repay the outstanding debts. Management closed the year 2016 with consistent loss of over N768 billion – significantly worse than the year-end 2015." 
"We believe in the interest of fairness, justice and equity, the CEO, Mr. Wale Tinubu must vacate his seat to allow for proper investigation of all these allegations, corporate governance abuse and financial mismanagement. An independent new management must step in to save our investment in the interest of the integrity of the capital market and investor's confidence, "he added.