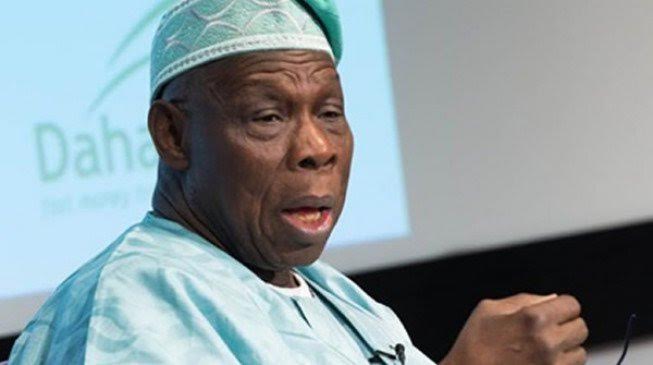 Former President Olusegun Obasanjo weekend lashed out again at President Muhammadu Buhari over the incumbent's alleged high-handedness, saying that Nigeria is back to the era of late General Sani Abacha when state institutions were used to fight perceived enemies of government.
Abacha was an autocratic ruler, who served as military Head of State from November 1993 till his death in June 1998.
In an open letter titled Points for Concern and Action distributed to journalists at a press conference at the Olusegun Obasanjo Presidential Library, Abeokuta, Ogun State on Sunday, Obasanjo said, "Today, another Abacha Era is here.
The security institutions are being misused to fight all critics and opponents of Buhari and to derail our fledgling democracy. EFCC, Police and Code of Conduct Tribunal are also being equally misused to deal with those Buhari sees as enemies for criticising him or as those who may not do his bidding in manipulating election results.
"Criticism, choice and being different are inherent trade mark of democracy. If democracy is derailed or aborted, anarchy and authoritarianism will automatically follow.
"Today, as in the day of Abacha, Nigerians must rise up and do what they did in the time of Abacha. Churches and Mosques prayed. International community stood by us Nigerians. I was a beneficiary and my life was saved. Well-meaning Nigerians took appropriate actions and made sacrifices, some supreme, some less than supreme but God had the final say and He took the ultimate action."
The former president also expressed "serious concern" over the integrity, impartiality and competence of the Independent National Electoral Commission (INEC) to conduct a credible election.
He said going by the Osun State gubernatorial election, the forthcoming polls may have "incidences of deliberately contrived, broken or non-working voting machines or card readers, confusion of voters as to their voting stations, inadequate supply of voting materials to designated places, long line to discourage voters and turning blind eyes to favour the blue-eye political party of INEC because the Commission's hands will be tied to enable hatchet men and women to perform their unwholesome assignment".
He said the transmission and collation of election results are subject to interference, manipulation and meddling. He also said that Amina Zakari, a national commissioner of the Independent National Electoral Commission (INEC), who is alleged to be a blood relation of President Muhammadu Buhari, has become too controversial to take part in the elections.
Obasanjo urged Zakari to "stay out" and "not be seen as a source of contamination of the elections".
He also accused the All Progressives Congress of "recruiting collation officers who are already awarding results based on their projects to actualise the perpetuation agenda in which the people will not matter and the votes will not count".
Obasanjo said the alleged recruitment is the "sole reason" the president refused to sign the revised Electoral Reform Bill into law.
The former President also criticised Vice President Yemi Osinbajo over the "suspect timing" of the implementation of the Trader Moni scheme.
He said, "What an act by a Senior Advocate of Nigeria lawyer, number 2 man in the Executive hierarchy; and what is more, a pastor of one of the Christian movements led by a revered, respected and upright church leader, Pastor E. A. Adeboye. Osinbajo must have gone for, "if you can't beat them, join them".
"A great pity indeed and which makes people ask the questions, "Any hope?" Yes, for me, there is hope.
"Osinbajo has shown the human weakness and proved the saying that the corruption of the best is the worst form of corruption. His explanation that it was their government programme can only be construed to be very shallow and lopsided, if not an outrightly idiotic programme.
"Those who criticise the action are called evil but they are not evil as they know what they are doing and saying, and they love Nigeria and Nigerians not less than the likes of Osinbajo. They are not devils incarnate; they are patriots.
"What is the connection between taking the number of PVC (Permanent Voters Card) of the recipient of the N10,000 doled out to 'traders' and the forthcoming election? There is something sinister about it, and Professor Osinbajo, of all people, should know that."
Obasanjo urged Nigerians that are "being intimidated or threatened" to persevere, saying "tough times do not last forever".
Obasanjo was jailed for life by Abacha in 1995 over a phantom coup plot but he was released in 1998 after the death of the military ruler.
He was then twice elected president of Nigeria, from 1999 to 2007, having been a military head of state himself from 1976 to 1979.
He supported Buhari's election against then incumbent President Goodluck Jonathan in 2015.
APC replies Obasanjo
The All Progressives Congress (APC) says former President Olusegun Obasanjo is being haunted by what he did while in office, especially with regards to the conduct of elections.
National Publicity Secretary of APC, Lanre Issa-Onilu, stated this at a news conference on Sunday in Abuja.
"For eight years of Obasanjo in office, all the elections he held, in fact, government policies were determined by whatever mood he found himself.
"All the institutions of government were brought under his wings and what he did for those eight years is what is haunting him.
"He cannot imagine that a government will allow INEC the statuary independence that it has.
"We have had 93 elections or more since APC came to power, and you can be sure that all those elections were conducted without government interference.
"We can understand where the former president is coming from, his past is haunting him, he imagines that perhaps the way he did it is the same way we will do it," Issa-Onilu said.
He added that the APC-led federal government had always allowed institutions to fulfill their mandates without interference.
Issa-Onilu said that the 2003 and 2007 general elections held under Obasanjo`s watch were nothing to write home about.
He gave an assurance that under the APC government, votes would count in the coming general elections, assuring that the polls would be free, fair and credible.
The APC spokesman added that the party had no reason to rig elections, because according to him, its achievements in all sectors of the country`s economy would speak for it.
He, however, advised Obasanjo to adjust himself to the reality of an imminent defeat in the coming elections.
"He has carried himself about as the dispenser of our destiny and God is showing him clearly that he has just only been lucky.
"And the favour that God has done to him, he now considers as the things that are coming from him.
"I think it is time for him to smell the coffin, this election will come and it will be free and fair, APC does not have any reason to rig it," Issa- Onilu said.
He further maintained that after February 16, Obasanjo "would realise that he is not God.''
Issa-Onilu said the APC was already campaigning round the country even though the PDP had earlier said that President Muhammadu Buhari would campaign by proxy.
He also stressed that Atiku Abubakar, the PDP presidential candidate, personifies the dark era of the country.
Issa-Onilu said the APC was poised to bring the country out of the doldrums that the PDP brought it to with its 16 years of governance.