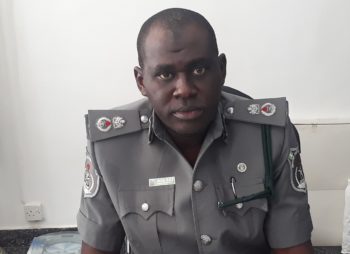 The Tin Can Island Port Command of the Nigeria Customs Service has declared zero tolerance to improper examination of cargoes by officers to forestall illegal importation of arms and other dangerous items into the country especially as the 2019 general election approaches.
It would be recalled that the command had at different times last year impounded cache of live ammunition and other dangerous drugs including container loads of banned tramadol.
Controller of the Command, Comptroller Musa Abdulahi who gave the warning at a meeting with unit/terminal heads and senior officers of the command in Lagos said the excuse of non-functional scanners and "armchair" cargo examination would no longer be tolerated.
While admonishing officers to always double check declarations received from importers through their agents to ensure information on the document are not falsified, the controller warned that any examination officer who fails to be diligent in the discharge of his/her duties will be sanctioned.
"If officers were doing armchair examination before now, now there will be no room for such in 2019 meaning that all cargoes must be examined 100 percent. The excuse of lack of scanners can no longer be tolerated as we have enough personal that can do the examination. So all cargoes must be fully examined and if there are infractions, any examination officer who refuses to do the needful will be sanctioned," Public Relations Officer of the command, Uche Ejesieme, quoted Abdulahi as saying.
Ejesieme added that the Controller also emphasizes the need for officers to ensure that there are no compromises of any sort and all areas of revenue leakages are blocked while ensuring regular engagement.
"Part of what he admonished was on the need for serious collaboration and synergy with all various units in the trade value chain. He also admonished officers on the need to ensure that all areas of revenue leakages are blocked and to always compare note with hard copy declarations and the ones they see in the system to make sure that nothing is falsified," he told SHIPS & PORTS DAILY.
Ejesieme said while the command recorded an impressive performance in the out gone year, all the measures being put in place are geared towards enhancing efficiency and productivity in its operation in 2019 with a view to surpass its last year revenue target of N354 billion.