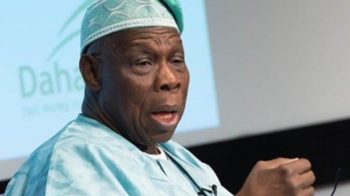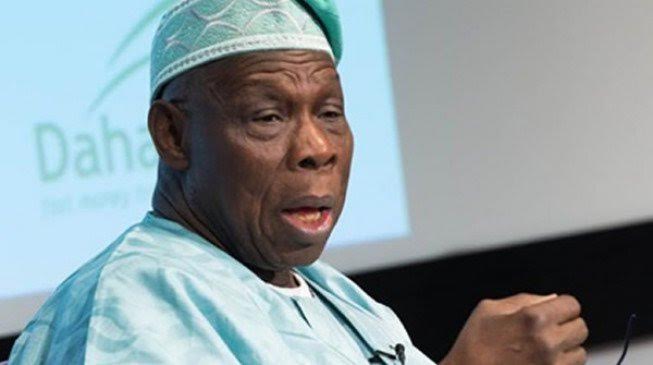 Former President Olusegun Obasanjo Friday relieved his last days with late Shehu Musa Ya'adua at the Kirikiri Maximum Security Prison, and how he turned down an offer by those he called "my international friends" to get him out of Yola Prison using commando style operation.
Obasanjo who spoke at the commemoration of the 20th anniversary of the death of the late Yar'adua regretted that even though both of them strategized on how to move Nigeria forward even while in prison, their strategy failed, adding that his meeting with his former number two man at the Kirikiri prison could have been his greatest mistake.
Former Vice President and one of Yar'adua's biggest political associate, Atiku Abubakar who is also the Vice Chairman of the Board of Trustees of the Shehu Yar'adua Foundation was absent at the event, but his wife, Titi was in attendance. 
Speakers at the event which included Sierra Leonian President, Ernest Bai Koroma, who eulogised the late Tafidan Katsina for his selfless service to the country, while one of his course mates in the Nigerian Army, Gen, Paul Tarfa explained that the coup that toppled Yakubu Gowon was staged principally against the junta and not aimed at Gowon.
Obasanjo who said he shared a lot of good times with Yar'adua said, "When Shehu died in prison, my international friends decided that they will use the commando plan to get me out of prison and they actually did make the plan, got the money and wanted to get an helicopter to get me out of Yola prison and take me to Cameroon.
"They sent a message to me and I told them, if you do, I will not get out of prison and that was when they dropped the idea of using commando effort to get me out of prison. That would have defeated what we stood for. We stood for Nigeria and we stood to face whatever consequences standing for Nigeria would cost us. It cost Shehu Yar'adua his life. Those of us who believe in what Shehu stood for that are at still alive, the only thing that we can do is to allow the struggle to continue because we are not at the end of the struggle yet.
"As Shehu said to his son, we want to bequeath to Nigerians, our children and our children's children a country that we can be proud of. We are not there yet. May God make us get there." 
The former President told the gathering that Shehu Yar'adua was the best deputy he could ever dream of.
He said, "When I was military Head of State, we had quite a number of exciting and serious times together that we shared. Let me give you a few of the times that are interesting and some that are also not very serious.
"One day I had cold and the doctor came to see me and I said to him, supposing this cold decided to take my life and I slump, what will you do. He said I will try first aid and I will do all I need to do to revive you. I said if you tried that and it didn't work, what will you do and he said, I will call the Chief of Staff.
"Just then, Shehu came in and I said Shehu, listen to what we were talking about and I relayed to him the discussion and told him, now that you have come in, I am here on the ground, what will you do. He said I have no problem with that, I will kick you with my military booth and say get up, this is your job.
"We had such an interesting time together. We also had difficult times together. We had to put our heads together and discuss on how we can handle the issue of transition, how to implement our own programmes and how to move Nigeria forward. We succeeded in doing what I believed was the right thing for the country at that time and putting in place a democratically elected government.
"A few years after that, Shehu came to me in the farm and said he wanted to set up a grassroots party. He said from his study, he had discovered that Nigeria had never really had a truly grassroots party, not even NEPU.
"I asked him if there was anything he wanted us to do while in government that we did not do and he said no. I said then, I pray that this grassroots party that you want to build will succeed. I asked him, do you want to use this grassroots party to get into power, he said not really, but if that turned out to be the case, will you ask me not to, and I told him not really, but I will be very glad if that turned out to be the case.
"Many members of that party have remained loyal to the course he set out to build. His ideals and what he stood for both when he was alive and when he departed."
Obasanjo said Yar'adua lived a life of service, saying "those of us who know Shehu very well, know the type of man he was, the type of love he lived, his commitment to his family, to his religion, to his nation and his friends. When you asked the question, what is life, I think Shehu Yar'adua's life typifies the answer to that question.
"He lived his life and gave us eloquent answers about what life is and that is also evident from what we have seen here today. Twenty years after he passed on, we are here with his memory still green and fresh in all of us." 
Sierra Leonean President, Ernest Bai Koroma described the late Yar'adua as a great African leader who was greatly loved by his people because he played his part well.
According to Koroma, "We are consoled by his exemplary life. He was a great patriot. The interest of the nation was first in his heart." 
Former Minister of Foreign Affair and member of the Board of Trustees of the Yar'adua foundation, Chief Dubem Onyia said the democracy the country is enjoying today could not have been possible if Yar'adua had not put in place mechanism for it.
"Shehu believed in a United Nigeria built on people rather than territory, a country that where you come from or your religion does not matter. Where our faith and passport matters. He believed that we must be able to do for ourselves what others cannot do for us.
"His faith and belief in this country is undiluted without being immodest, no political leader, dead or alive in this country, not even our founding fathers have ever developed political associates like Shehu did. We believe in his ideology and legacy, came together to establish a foundation that has no comparison in this country," Onyia said. 
Some of those present at the event include retired military officers, captains of industries, politicians including former Minister of Finance, Mallam Adamu Ciroma, former Minister of Police Affairs, Adamu Waziri, former Governors Donald Duke of Cross Rivers and Peter Obi of Anambra, Mrs Titilayo Ajanaku, Hajia Titi Abubakar, Ambassador Patrick Dele Cole, and Gen. Paul Tarfa among others. 
Copyright Ships & Ports Ltd. Permission to use quotations from this article is granted subject to appropriate credit given to www.shipsandports.com.ng as the source.