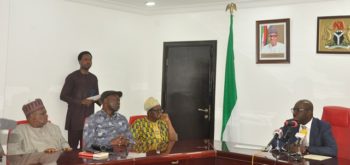 Worried by the poor state of development in oil producing communities, Edo State Governor, Godwin Obaseki, on Friday proposed a Livelihood Sustainability Programme to address the developmental gaps in the communities.
Obaseki made the recommendation in Benin City while receiving members of the National Assembly Joint Committee on Petroleum Industry Bill (PIB), who are in the state to meet with stakeholders in oil producing communities to assess the impact of oil exploration in the communities.
The governor described the visit as timely, as the state was working on a bill that will deal with issues that affect oil producing communities in the state.
He disclosed that the state was also embarking on an enumeration exercise to ascertain the impact of oil exploration activities on oil producing communities.
Obaseki said, "We want to have a tripartite arrangement involving communities, the state government and oil companies so that the situation in which host communities are abandoned will no longer exist. We want to have a livelihood sustainability programme in the communities."
The governor explained that the enumeration exercise will involve a baseline study and an action plan that will guide the proper implementation of the tripartite arrangement.
He told his guests that the state is planning to utilise the energy sourced from some of the communities to power companies that will be located in the state.
Earlier, Chairman of the Committee, Senator Tayo Alasoadura, said the visit was to allow oil producing communities in the state make an input in the three petroleum-related bills in the National Assembly.
He said, "We are propagating three bills on oil exploration and the third bill is the Host Community Bill which is the most important because it is the oil-bearing community that gets degraded in the long-run.
"So we want inputs from the communities before we hold the public hearing in Abuja later in the year."