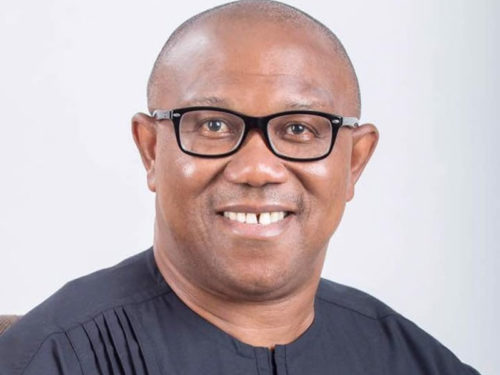 Vice Presidential candidate of the Peoples Democratic Party ( PDP), Peter Obi has promised that the Atiku/Obi administration will fix the deplorable port access roads and other challenges bedevilling the nation's port from attaining a hub status if elected into office come May, 2019.
Obi who made the promise on Wednesday while addressing a coalition of
air/land borders and seaport stakeholders at the National Theatre, Iganmu in Lagos blamed the high cost of doing business in Nigeria to the inefficiency of the port.He said the state of the nation's port is an indication of a failed system 'where people who do not have the capacity to run government are in charge'.
He said, "I have always been critical about Nigerian ports. How can you
say Nigeria is working and you are talking about ease of doing business when the roads leading to the port is in bad shape. It just shows that the government is not working. They have set up three taskforces to clear the port, yet they couldn't do it. It shows a system that is not working, where people who do not have capacity are in charge.
"What Singapore generates from managing its port is far more than what
we generate from oil. The port has not been expanded from what it was
when they were built because nobody is given them attention. Singapore
is building the biggest port under the sea and will start in 2050 and we
are not doing anything. When you have not created wealth and manage one, there is no way you can manage national wealth."
Obi who had in his entourage the party's governorship candidate in Lagos, Jimi Agbaje and other PDP loyalists sought the stakeholders support for the party and all its candidates in the forthcoming elections.
He assured that with his backdground as a trader and Atiku, a business man and ex customs officer, the PDP government will work towards improving port efficiency as well as create a robust economy.
"I am not just a business man, I am a trader and that remain my profession till today so I am one of you. Atiku is a business man, he understands business, he has invested money and he is an employer of labour, he knows what it means to run a business, so he will run the country because he has experience in governance and in business. He is an educationists who understand the value of education. People cannot offer what they don't have. You can imagine with the combination of an ex- customs officer and a trader what the port will be," he said.
Speaking earlier, Vice President, Association of Nigerian Licensed Customs Agent ( ANLCA) Kayode Farinto lamented the neglect of the maritime sector, saying that the APC led administration has failed to fulfill its campaign promises including the auto policy.
"After the election, the maritime industry was totally neglected by the current government despite the fact that we generate over N5 billion daily into federation account. All the electoral promises have not been fulfilled even the so called auto policy that Professor Osinbajo promised to review has been left on done," he said.
Farinto who highlighted some challenges militating against cargo clearance at the nation's port urged the PDP presidency to look into the indigenization of customs brokerage if elected to save the jobs of clearing agents which he said has been taking over by foreigners.
He added that the PDP once voted in should invest in the development of intermodal transport system and creation of a maritime ministry with a consistent policy.